Top places to eat well: guide to great food in Zadar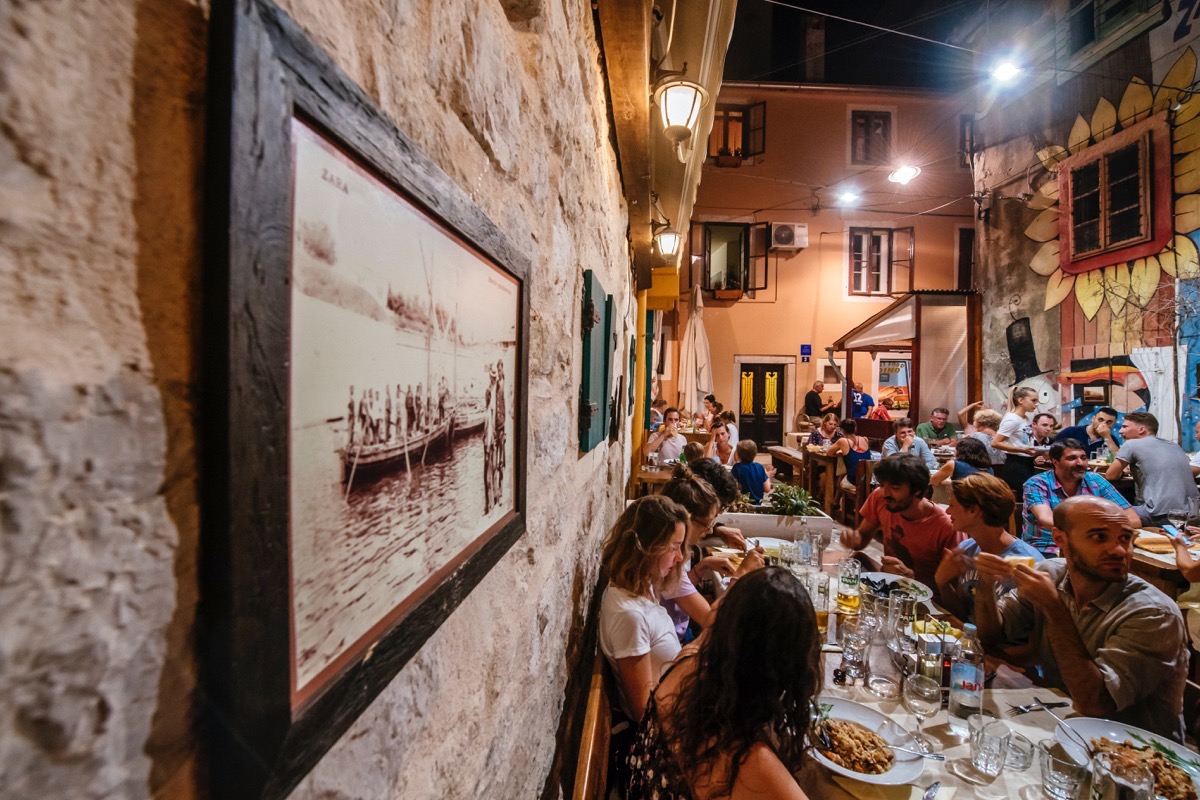 Feel like a quick bite to eat? Craving a dessert? Want to indulge in a fine-dining treat? Check out our guide to yummmmmmmmy food in Zadar, take your pick and … have a great meal!
Dalmatian / Mediterranean
Get a taste of the healthiest cuisine in the world! Fresh locally sourced ingredients, sprinkled with native olive oil and accompanied by a glass of great wine - all enjoyed without any haste. Just as it is done in Dalmatia.
5 bunara. With a tradition of more than forty years, the restaurant is known for its delicious Mediterranean food, seasonal menus and a great wine selection. They pride themselves in having locally sourced ingredients, including organic meat. The restaurant is located near Five Wells Square, hence the name.
Malo misto. Situated in a street parallel to Kalelarga (Široka ulica) close to the market and not far from People's Square (Narodni trg), the family-run restaurant offers traditional food with modern interpretations. The food made on a grill with lump charcoal is their specialty.
2 ribara. Mostly known for its fish specialties, the modern restaurant with half a century of tradition also includes pizzas, pastas and meat delicacies. You can find it close to the southern waterfront, on Blaža Jurjeva street.
Niko. Situated in Puntamika north of the historical peninsula, Niko is worth your attention for the authentic Dalmatian feel. Well known for its fish specialties, the restaurant also offers authentic entertainment in the form of klapa singing.
Fine-dining
Take your time to appreciate the fine-dining food Zadar has to offer! After all, there is something magical about having an irresistible meal next to the landmarks of the city.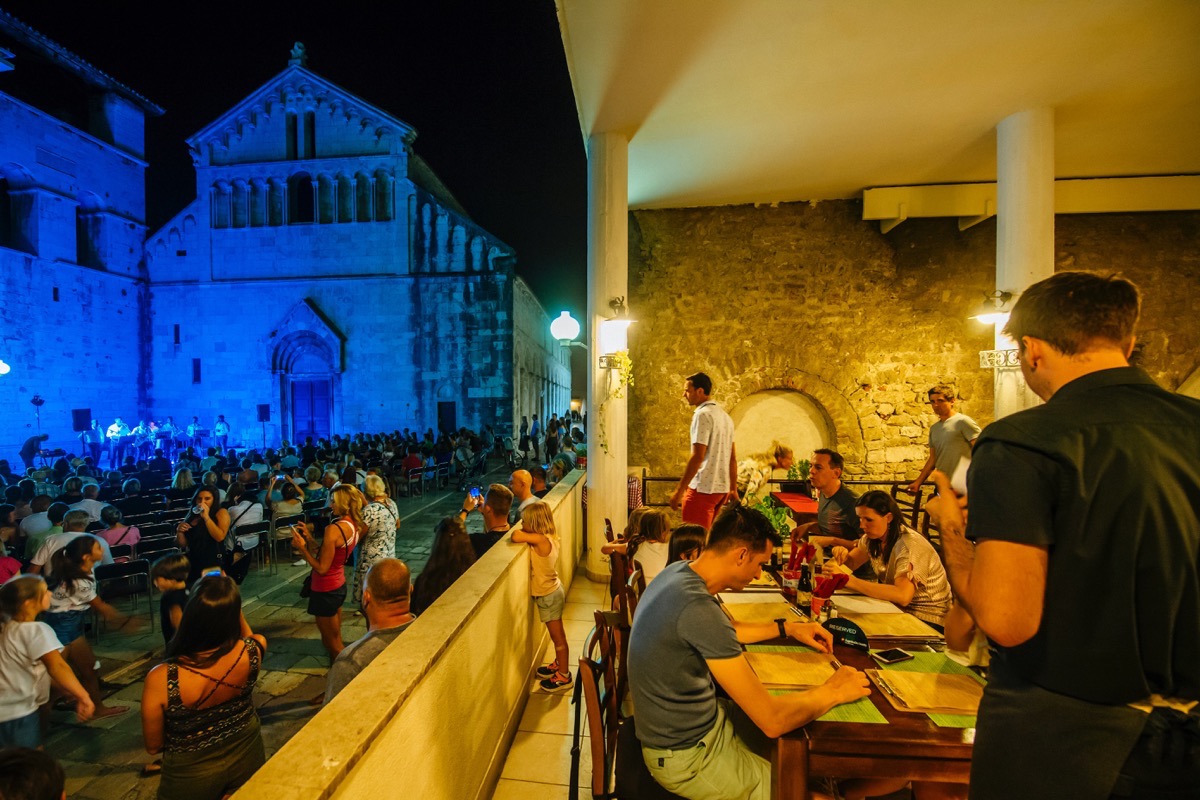 Foša. Set right by the defensive walls and the impressive Land Gate in the small port bearing the same name, the restaurant has a long-standing tradition of offering excellent dishes made with fresh fish and seafood. Combining traditional Dalmatian with creative modern gastronomy has earned the restaurant a Michelin recommendation.
Kaštel. On the opposite side of the historical peninsula you can also have a fine-dining experience at the Michelin-recommended restaurant Kaštel. Situated within the hotel Bastion, the restaurant uses local seasonal ingredients and shapes them into delectable Mediterranean and meat specialties.
Vegetarian/vegan
Have a plant-based treat at the Botanist! The recently opened restaurant is situated near the promenade and the University of Zadar. It is the only one to offer vegetarian/vegan dishes exclusively, even though many restaurants in Zadar have such options on the menu as well.
Fast food & grill
You have time only for a quick bite? There are several great options across the historical peninsula and wider.
Gricko grill. Cross the pedestrian bridge connecting the historical peninsula and the land, then continue straight ahead to Ulica dr. Franje Tuđmana. There you will find one of the best grill menus in the city at a great price - Gricko.
Bezburger. Dig into a juicy burger right next to the Church of St. Donatus and the Roman Forum. Yummy!
Švabos Burger & Soul Food. Excellent street food right in the heart of the historical peninsula! One of the finest burgers you'll find on Stomorica street in the heart of Varoš neighborhood.
Pizza & pasta
Need an energy boost? You can grab your carbs from a selection of excellent restaurants in Zadar.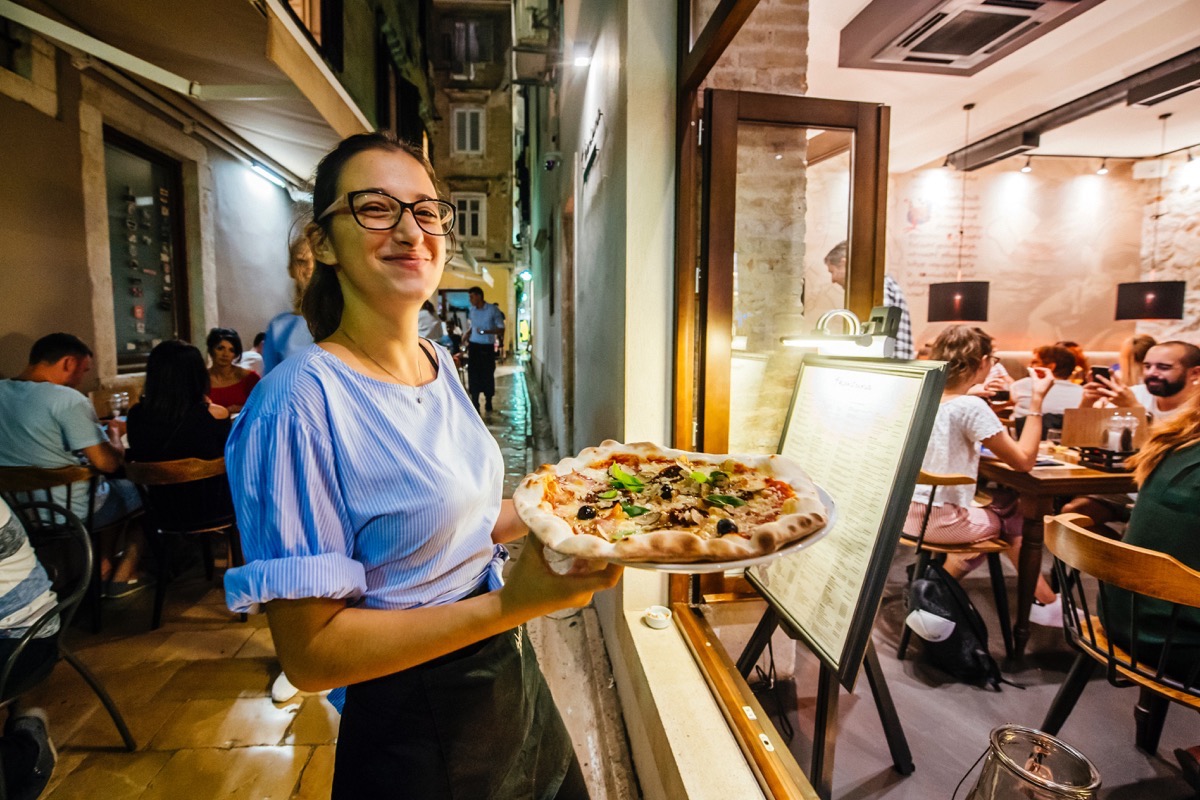 Pizzeria Šime. Head to the Borik neighborhood for a slice of yummy pizza at a family-run restaurant with more than forty years of tradition. Apart from their famous pizza, the menu includes other dishes, veggie- and meat-based alike.
Pizzeria 3 bunara. For a thin-crust pizza on the historical peninsula head to Three Wells Square, where you'll find a family-run restaurant bearing the name of its location.
Bruschetta. More than just bruschettas! While its name suggests otherwise, the restaurant right next to the western promenade also offers great pizzas, salads, pasta & more.
Pašta & svašta. Situated on Poljana Šime Budinića 1 south of People's Square, the restaurant offers home-made pasta with a variety of toppings. The semi-open kitchen allows you to witness the process of your food being made.
Desserts
Fancy a treat? Then stop by Callegro - coffee, gelato & cake bar right next to Boutique Hostel Forum and enjoy the view of the Roman Forum and Church of St Donatus.
Simply savory Zadar
Foodie or not, you can find just the right place to eat matching your preferences in Zadar. Often with a view, in a charming neighborhood, right in the heart of it all. So, start your culinary adventure in Zadar and… enjoy your meal!
Enjoying delicious food, enjoying life in Zadar… Here's how! Apart from taking a moment to revel in your food, just like Dalmatians do, there are other ways to have an authentic local experience.