Top Places in the City - a Photo Guide to Zadar 2022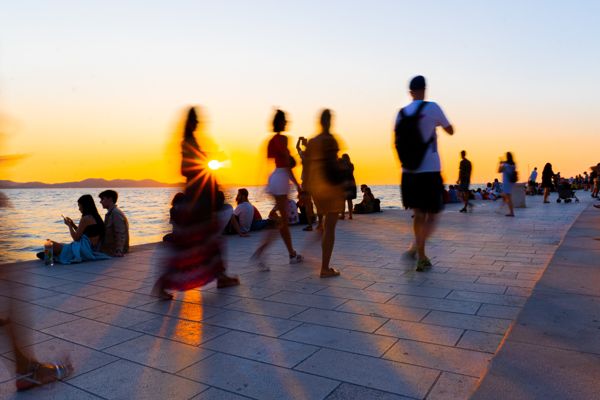 Ready to walk the streets of Zadar? To visit its hotspots? To have the top experiences? Then take a look at the photo guide to Zadar, get to know its fun side and enjoy it so much more in person, once you come to the city:
Top modern attractions
Spectacular sound & sight! The Sea Organ and Greetings to the Sun (i.e. Sun Salutation) at the waterfront are the most popular modern attractions in Zadar. Both were created as an homage to the city and a celebration of nature. Be sure to enjoy them in the evening, with the sunset as the perfect backdrop.
Walking distance from Boutique Hostel Forum: 6 minutes
Top lookout
See the historical peninsula in all its glory, see the sea and the islands in the distance, see Zadar from above … from the Belltower of St Anastasia's Cathedral! You're just €2 and 183 steps away from reaching the top spot for the best views of the city.
Distance from Boutique Hostel Forum: 0 minutes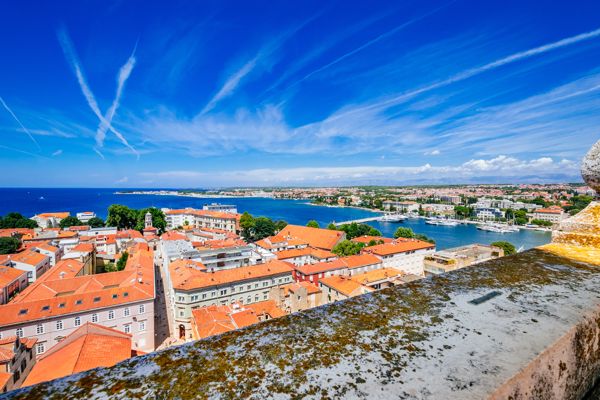 Top square
A place to meet & greet… since ancient times! The Roman Forum has been a central place for public life for millennia, so take a moment to enjoy it. As you are chilling on an outdoor terrace over a cup of coffee or a refreshment, look around and consider your next move and your surroundings. Namely, you are just a few steps away from Zadar's landmark St Donatus' Church, the Archaeological Museum, the Gold & Silver of Zadar exhibition, or the promenade.
Distance from Boutique Hostel Forum: 0 minutes
Top street
Feel the pulse of the city - along Kalelarga! The most famous street may be the oldest in the city, but it still remains the liveliest. Songs have been written about it, important events celebrated there, and still you won't find it as Kalelarga on the map. Simply because it is officially called Široka ulica, which happens to be the Croatian translation of the original name.
Distance from Boutique Hostel Forum: 0 minutes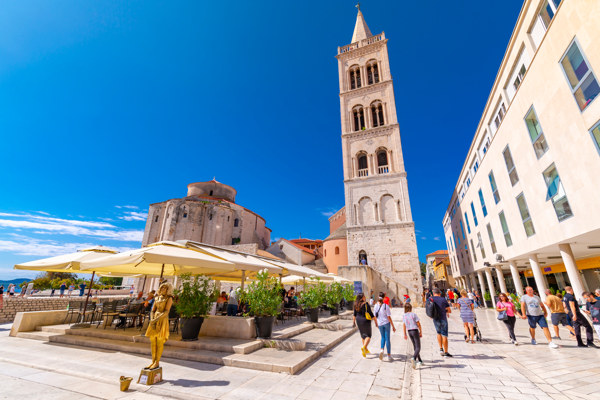 Top neighborhood for local experience
Doing as the natives of Zadar do! Wander the narrow streets of Varoš and simply join in the often spontaneous merrymaking. It's where you can grab a cup of coffee in the morning or a good bite to eat, it's where you'll find an exciting buzz in the evening out in the open.
Walking distance from Boutique Hostel Forum: 4 minutes
Top green zone
Having walked the walk in Zadar, stop for a break in the urban oasis of green - Queen Jelena Madije Park! Apart from providing you with a perfect setting for a breather, you can appreciate the nearby attractions at the same time: Five Wells Square, Petar Zoranić Square with ancient remains, small cove with a pier Foša with the impressive Land Gate nearby.
Walking distance from Boutique Hostel Forum: 8 minutes
Top place to stay
Stylish & centric, with fabulous views! Boutique Hostel Forum allows you to experience Zadar from the moment you drop your bags, be it in a chat room, a room just for the two of you or a lux mini suite. It's a great place to meet fellow travelers, it's a place to get first-class info from our local staff, it's where you start your Zadar story.
Top pictures
Take your very own photos as you explore Zadar and let them speak for themselves. After all, a picture is worth a thousand words… And Zadar will give you a lot to tell!
Got only 24 h in Zadar? Then here's what you can do! And don't forget to snap pics of your Zadar story, no matter how short, but definitely sweet, it may be.