7 Best Hotspots to Visit in Zadar Region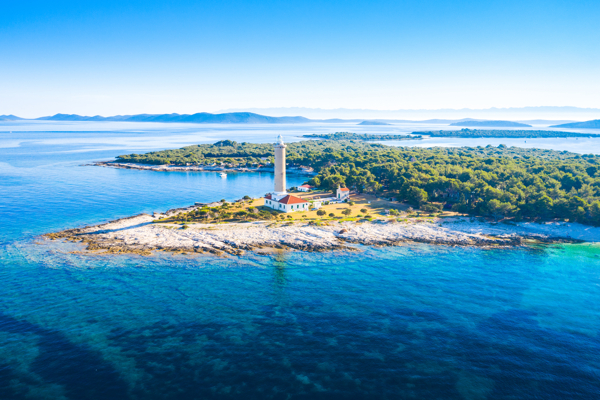 It's hot! It's awesome! It's Zadar (region)! So, what are you gonna do to make your visit real special, Insta-worthy, a can't-keep-my-mouth-shut-about-it kind of a trip? We have a few hints for you, so see what works best and make your very own edition out of it:
1. The inevitable city of Zadar
Take in the unique flair of the city, where the modern meets the ancient… Don't just snap a pic on a rock at the Roman Forum, but discover other traces of times long past, including the vibrant central street Kalelarga (officially Široka ulica). Look for the Venetian heritage starting with the walls, gates and historical squares (UNESCO World Heritage Site).
That's just the old part. Heading to the promenade, you then get to experience the modern attractions - Sea Organ and Greetings to the Sun. Both architectural works of art pay a one-of-a-kind tribute to the city itself. Just dig deeper and see for yourself what a fascinating place Zadar is.
2. Charm of a small coastal town
Get to know the story behind small historical towns on the coast! For example, both Nin and Pag have a very special Mediterranean charm, and offer authentic experiences. In Nin, you might learn more about the early Croatian history, and traditional way of life by visiting the Nin Saltworks. Similarly, Pag island may be widely known for its party scene, but it is also the home to the famous Pag island cheese, a very distinctive product of the specific environment and microclimate.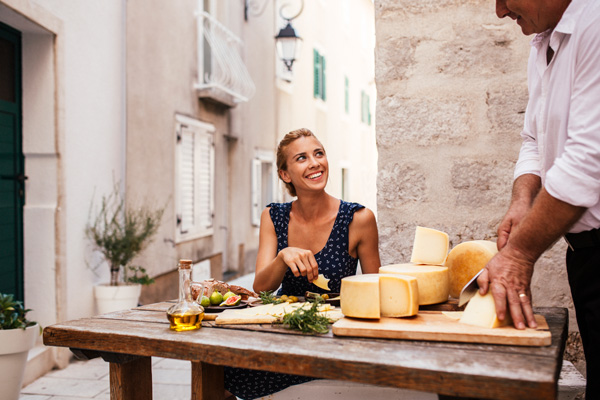 Pag Island Cheese, Zadar Region
3. Fabulous beaches
What's your favourite kind of beach? You name it, Zadar region has it! Pebbly beach with turquoise sea? Go to Sakarun beach on Dugi Otok island. Sand as far as the eye can see? Head to Nin's Lagoon. Lively urban beach? You don't even have to leave Zadar, just go south of the historical peninsula to Kolovare.
4. National parks
Yes, parks, as in plural. Islands, rivers, lakes and the mountain - the wider Zadar region indeed has amazing wonders of nature to see. And knows how to cherish it. Staying in Zadar, you can easily reach national parks such as Paklenica, Kornati islands, Krka, as well as nature parks Vrana Lake and Telašćica on Dugi Otok island.
5. The heart of romance
Travelling with hearts in your eyes? There's no better place for romantic surprises than the Zadar region. Take a panoramic flight over the heart-shaped island of Galešnjak, discover the story of the Zadar Sphinx, walk off into the sunset, the most beautiful one there is, in Zadar.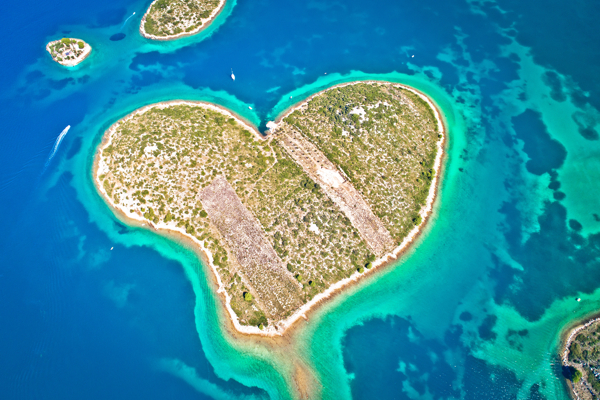 6. Vineyard with a sea view
Sample locally produced wine! The region may be best known for Maraschino cherry liqueur, but it also has wine bearing areas. For example, you can head to Kraljevski vinogradi (Cro. Royal vineyards) in Petrčane, just outside Zadar to try out a few wines and enjoy the scenery.
7. Local lifestyle
Curious about the authentic Dalmatian lifestyle? While on your walking tour, stop by the Zadar market to see its buzz. Take a break on a terrace in a historical neighbourhood in Zadar, such as Varoš or Kampo Kaštelo and just take it easy. Just as locals do.
And more…
Explore the hotspots, discover your personal favourites in the Zadar region and write your very own story. Intriguing and unique.
Want to soak in the sun? Check out the top beaches in the region! How about visiting places in the region with fascinating stories to tell, including Pag and villages outside Zadar?