Design(er) - Boutique Hostel Forum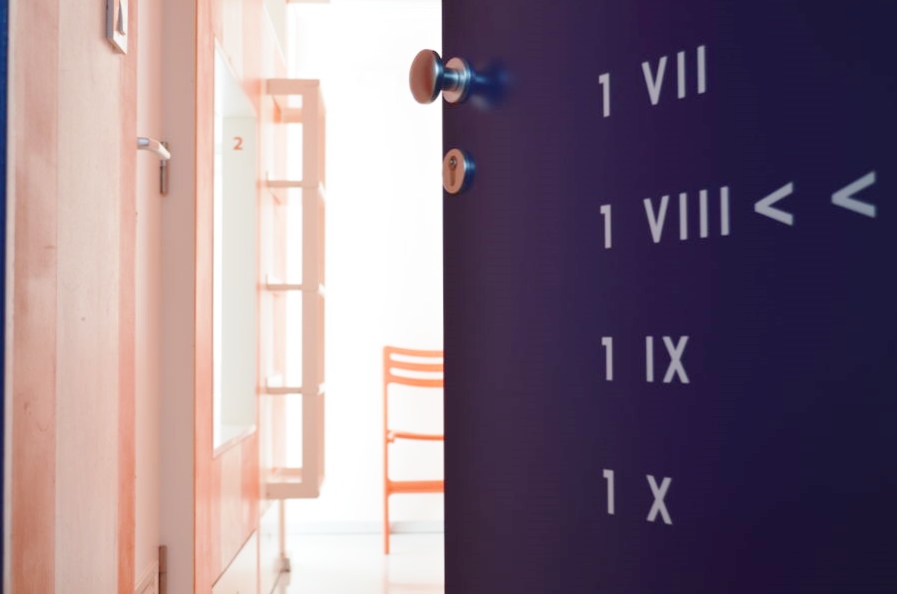 The hostel's design is actually a love story - a fusion of traditional and modern with a kiss blown to Zadar. Homage is paid to one of Zadar's landmarks and hostel's namesake, the Roman Forum, by including elements of Roman architecture and culture such as the 'grandstand' in the common area as well as the Roman numerals used to mark the rooms together with standard numbering. The colours chosen fully reflect Zadar - the 'Zadar blue' as the blue sky above and crystal clear sea below paired with the orange colour of the most beautiful sunset in the world. The colours dance through the space, the stripes of different density tango through the halls adding the beat to the rhythm of the playful love story as told by the hostel.
Indeed, our hostel will make your heart race, but it will play a trick on your mind, too. It's all for you, though. The blue stripes in our halls pay tribute to Kalelarga in a way that they add a few exciting beats to your pulse. Kalelarga (officially Široka ulica) is not just the street where our hostel is located. It's the street that represents Zadar's pulse. It's the street where you're never alone. Just like you'll feel in our hostel. While wide and less dense stripes on the third floor visually shorten the hall so you never have the feeling you're alone in a large space, a forest of stripes on the first floor visually elongates the hall so that you don't feel crowded in a place where the most people stay. Yes, we do play with you, but just a bit and for your cosiness only.
Speaking of comfy, you won't find an armchair in the common area. Nor sofa, for that matter. Still, you'll get to rest, meet and hang out with people the way ancient Romans used to and people in Dalmatia still do - on the skaline ('steps' in the form of a grandstand auditorium). It's a forum inside the Forum. And no, you won't have to speak Latin, but you will learn some (Roman numerals), particularly if you want to find your room. So, there can only be one I, give me some V as in five and X for ten. The rest is just play of mix and match of the three.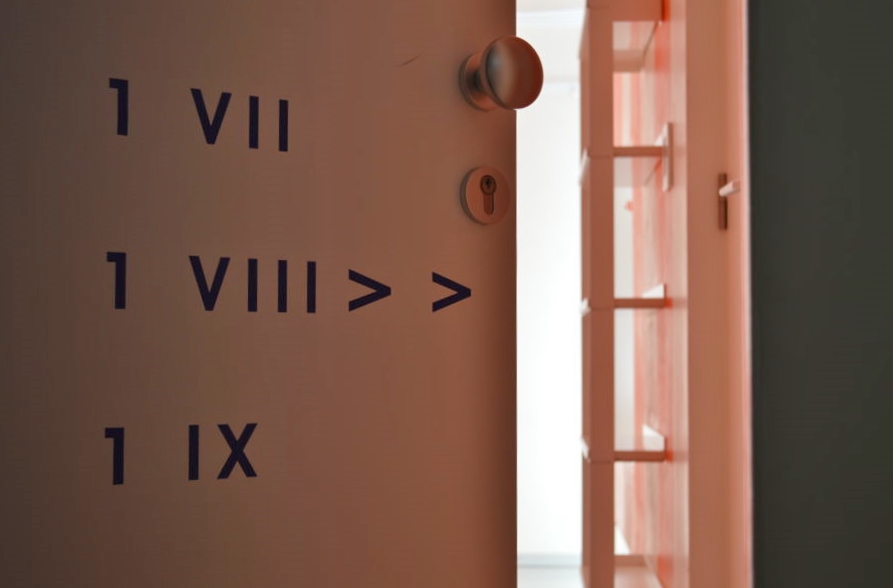 X is also something love birds can do as they enjoy the magnificent sunset from their bed which is so wonderfully reflected in the orange colour in our rooms. It's pure romance - so appropriate for one of the most romantic cities in the world, our Zadar. We are pretty sure that once you come to Zadar, once you see that view from our rooms, you'll fall in love. And live happily ever after.