Architect(ure) - Boutique Hostel Forum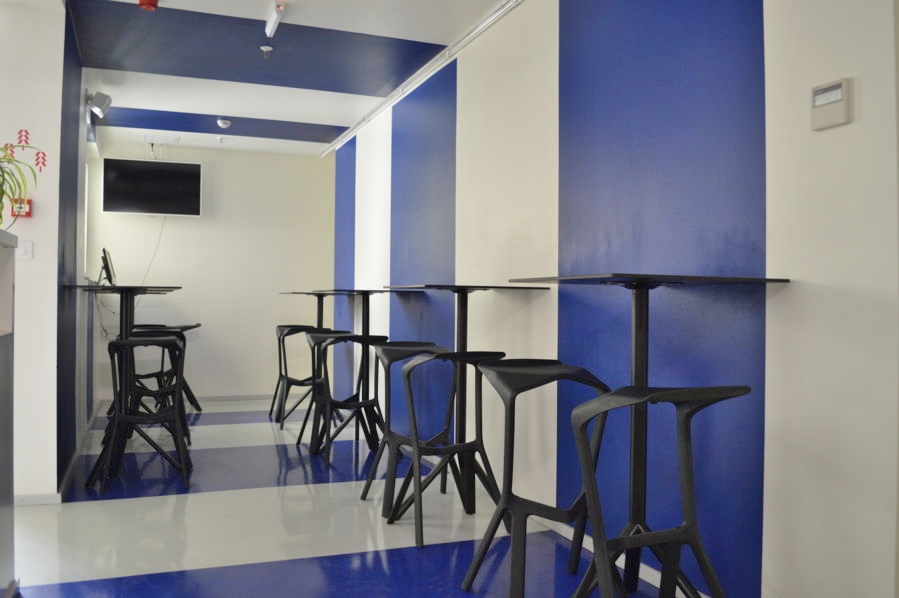 The challenge to redo the building for the purpose of a hostel was taken up and completed by Studio Up. The dimensions of the building are 75 m of length and only 5 m of width, so the adaptation was by no means a walk in the park. The limitations of space were overcome by a great play of architectural and design elements. The award-winning project continually attracts a lot of architects(-to-be) who come to admire it out of professional curiosity, and then decide to stay. Simply because it's irresistible.
However, you don't really have to be an architect to appreciate what makes the hostel so unique. From the outside, the building has kept its front intact since it represents a piece of post-WWII architecture. The very serious exterior combines marvellously with a very lively interior, because when you step inside, the play starts. The two work together as great as yin and yang, rock 'n' roll, Kate and Wills, bread and butter, Shrek and Fiona, in a few words - they work like magic. Similarly, all rooms give you a very modern view of the antiquity, since they overlook Kalelarga, Forum, St Donatus' Church. Our hostel simply cannot but work it's magic on you from the inside out.
The hostel was redone in a way that it's a place where you'll get your own private corner (even in the dorms), but you'll also get a chance to join in any chat or activities in the common area, breakfast room, auditorium, our lovely gazebo or sip your favourite beverage in the coffee bar Forum and just enjoy the general everyday buzz of the city. For guests who prefer a bit more privacy, the third floor is the key. The trapezoidal, hexagonal and square rooms truly are a sight for sore eyes.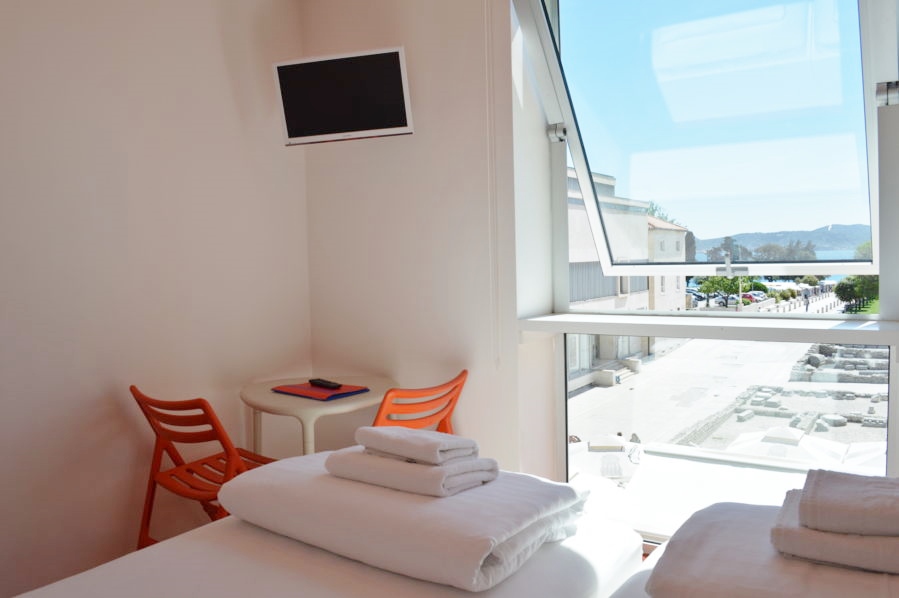 On the other hand, you may not be interested in geometry at all, or the range of colours, or the type of tiles used or the many mirrors - elements which create a play in which the modern meets the traditional. You may not wonder at all at the inclined floors or give a second thought to the elevated beds or how the light in the room works. So, you might not even notice, when you come to your room from a night on the town and visit the toilet, that the person you're telling about your wild night is in fact your own reflection in the mirror. After all, your room is your best audience - it receives you with open arms, it doesn't criticize and it gives you exactly what you need and doesn't ask for anything in return. (Apart from a few kunas, but who's counting).