Dalmatian Cuisine - 5 Must-try Dishes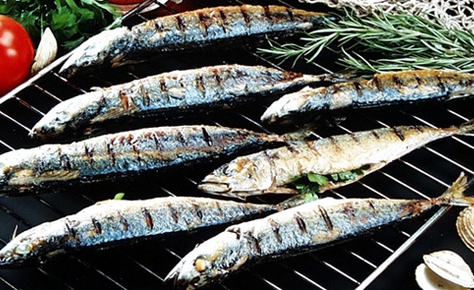 Sure as eggs is eggs, the Mediterranean diet is among the healthiest in the world. Not surprisingly so, since it involves a lot of fish, vegetables, olive oil etc. And healthy does not mean 'yuck!' in this case. Dalmatian cuisine includes the best of the Mediterranean way of cooking, but it also incorporates elements from the Dalmatian hinterland and Croatia in general. It's all about indulging in excellent food moderately, according to the carpe diem ('seize the day') way of life.
Grilled fish
The name of the dish doesn't really sound like a menu special, does it? Oh, but it is. Particularly, if you're lucky enough to find a restaurant where you can witness any part of the process or all of it: fisherman delivering the fish, usually mackerels or sardines, the cooks cleaning and seasoning the fish with locally produced olive oil and home-grown Mediterranean herbs and then expertly grilling them! An absolute must is also the side dish: Swiss chard with potatoes. Totally mouthwatering!
Black risotto
Black is normally regarded as the colour of sadness, depression, pessimism. Well, combined with rice it's quite the opposite. Cuttlefish is one of the main ingredients here and the ink it produces is not only responsible for the colour of this dish, but it's believed to be a natural antidepressant. So, grate some cheese over your black risotto and you're bound to enjoy a lovely meal with a big smile spreading across your face!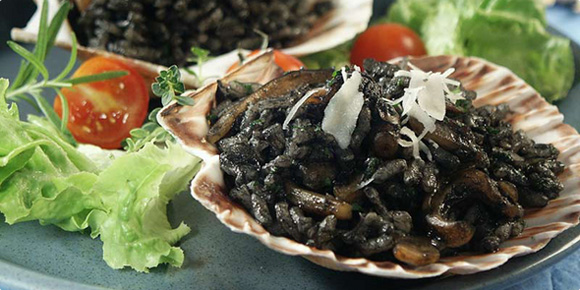 Octopus under peka
Lovers of seafood will be pleased to find yet another such dish on the list. And what a dish it is! The main ingredients include octopus und potatoes, but the key is the peka. The ingredients, a drop of olive oil and herbs are placed in a cast-iron or earthenware pot where they slowly cook, covered with a lid with hot coals on top of it. Peka is prepared in a fireplace and it takes a couple of hours to finish. It's a true culinary art, but well worth the wait. Luckily you can also enjoy peka with different basic ingredients. If you've had enough of seafood, lamb under peka is another unforgettable dish. Simply irresistible!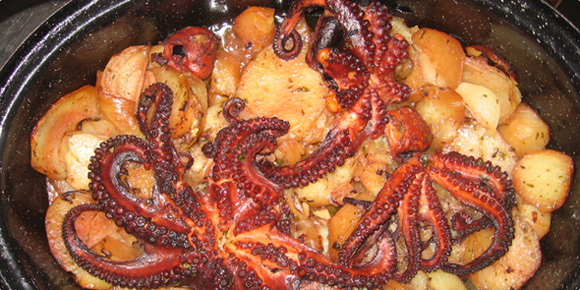 Pašticada
Apart from lamb under peka, meat lovers will be excited to discover pašticada. It's a traditional Dalmatian dish always served on special occasions and it's prepared with special care. The main ingredient, beef, is marinated usually overnight and then it takes hours to cook. Pašticada is generally served with gnocchi. It's a true culinary marathon to prepare it and the effort behind it is reflected in its extraordinary taste.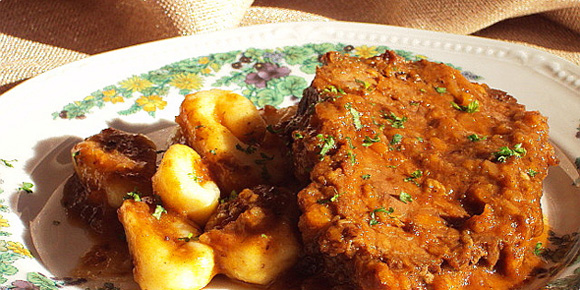 Dalmatian pršut (prosciutto) and Paški sir (Pag Island cheese)
Dalmatian pršut and Paški sir are perfect appetizers to nibble on while having a drink or two with friends. They ideally complement each other particularly when served together with homemade bread. Dalmatian pršutrefers to a dry-cured ham, but it's also smoked unlike similar variants from other countries. Paški sir is made of sheep milk, but it has a distinctive flavour that is achieved as a combination of natural environment on the Pag island and the cheese production itself. In a few words, it's completely unique. It would be a crime not to savour the two delicacies. An absolute must-try!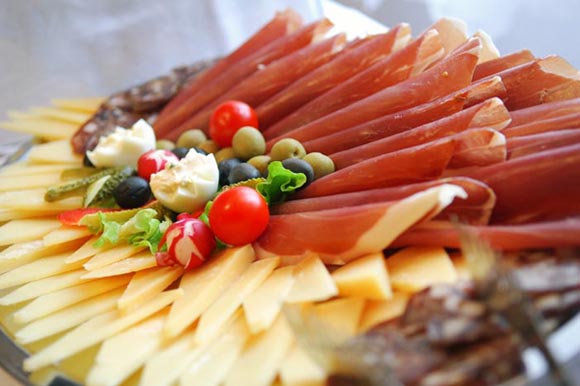 Healthy and delicious are the words to describe Dalmatian dishes. Regardless of which you decide to try, don't forget the icing on the cake - take your food with a glass of excellent Dalmatian wine for an unforgettable dining experience! So, have a nice meal and cheers!
Image sources: http://www.coolinarika.com/ , http://bit.ly/1fBvgzS