Discovering Caves in Zadar Area – Hostel Forum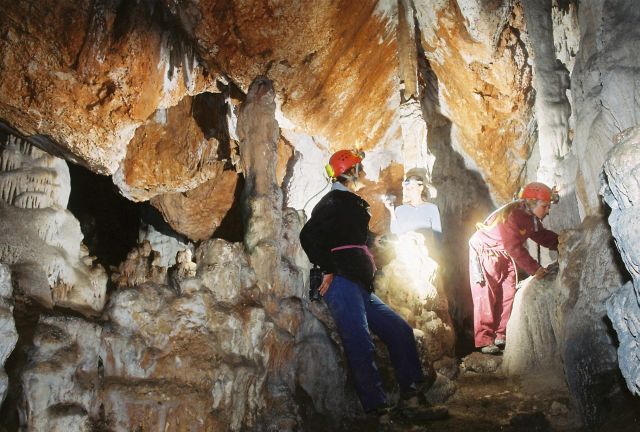 Caves are generally dark and cold, so basically the total opposite of what most visitors to Croatia seek for their holiday. But lovers of nature are amazed with Mother Nature's artwork found in them. There really is something mysterious, awe-inspiring in the variety of their geomorphological shapes and the wealth of (hi)stories they tell.
Cerovac caves
Cerovac caves are situated in the southern part of the Velebit Nature Park, close to the town of Gračac. Discovered almost hundred years ago, the caves were declared a geomorphological natural monument more than half a century ago. They are divided into three parts: the Upper, Lower and, the smallest of the three, Middle Cave. At this point visitors can enjoy the several hundred metres of the Upper and Lower Cave which have been adapted to receive them. Apart from the amazing geomorphological shapes, Cerovac Caves are famous for their archeological findings which testify to human presence dating back thousands and thousands of years as well as 15-20.000-year-old fossils of a cave bear. The whole area, with the focus on caves, is planned to be further promoted as a destination for nature enthusiasts, particularly hikers.
Modrić cave
Modric is a hamlet situated at the foot of the Velebit mountain and well known for severe bura wind, medicinal mud, dangerous serpentine Adriatic state road and Modrić cave. With relatively easy access, this geomorphological natural monument has been open to visitors for the past ten years, although it hasn't been adapted to receive them at all. It's entirely authentic as it was when it was discovered. Apart from amazing stalactites and stalagmites, traces of human presence dating back to the Bronze Age and fossils of a cave bear have been found in the cave similarly to Cerovac caves.
Manita Peć cave
Hikers love the trails in Paklenica National Parks and the marvelous geomorphological shapes found in numerous caves and pits, not all of which are open for visitors. Manita Peć cave is a karst phenomenon that has been attracting visitors for almost eighty years. It takes about an hour and half of hiking to reach the cave, but its stalactites and stalagmites, which take thousands of years to form, are well worth the trouble.
Strašna Peć cave
Strašna Peć cave, which translates as 'frightful furnace', is situated on the Dugi Otok island, close to Telašćica Nature Park and Kornati Islands National Park. It was opened for visitors more than a century ago and it was once visited by the Austro-Hungarian emperor Franz Joseph. After a period of closure, it was adapted and re-opened for visitors in 2007. Even though it's smaller than the caves above, there's something irresistibly gothic about it that keeps attracting visitors.
Something refreshing
Hikers and nature enthusiasts in general are excited to discover caves. Their marvelous geomorphological shapes, the touch of mystery surrounding their interior leave noone indifferent. If you choose to undertake a visit to a cave, remember to bring proper clothes since the temperature is well below the summer heat outside. Caves really are an excellent refreshment to anyone's holiday.