How to find cheap accommodation in Zadar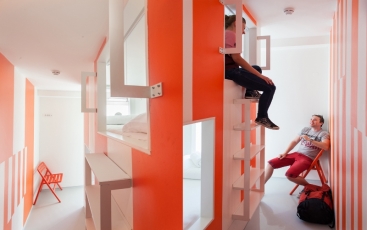 A modern traveller, particularly of the younger generation, strives to experience it all, right here, right now and preferably at a low cost. The point is to direct money extra, saved as a result of choosing cheap(er) accommodation, to fun activities, sights, nightlife … This doesn't imply that a bench in the park is the way to go. In fact, nowadays a traveller doesn't necessarily need to renounce comfort totally in order to spend less money on accommodation. A bit of research and analysis is enough for anyone to find suitable budget-friendly accommodation in Zadar which will be cosy enough for a good night's rest.
Pick and choose
The most reliable source of information is a close friend or family member who has been there and done that. If you know the person well, you'll know whether their choices will be fine for you, too. The other logical option for accommodation search is the good old Internet. One way to go is to rent a room from a local or opt for couchsurfing. Check as much as you can about your host, with reviews as one of the best red alert indicators and trust your gut when exchanging e-mails or talking on the phone. If anything's fishy beforehand, cancel it. If your host seems a shady character upon arrival, run. It's very unlikely anything bad will happen, but why risk having even one lousy encounter that can spoil a holiday, if there are plenty of other places to spend the night(s). In fact, hostels, as the places where you can meet both locals who speak foreign languages and people from all over the world, are the best option for cheap accommodation in Zadar and elsewhere.
What to expect in a hostel
It is safe to say that the majority of contemporary hostels are generally clean and a great place to meet tolerant, open-minded, friendly people from around the world. The guests are welcomed by staff members who are an excellent source of information about the destination, the sights, what-to-dos and what-to-sees. Most hostels don't offer only dorms with several bunk beds, but also singles and double-rooms at a reasonable price. So, depending on the travellers' budget, they can opt for a bed in a dorm or a room with more privacy and yet not spend as much as they would have to for a hotel room.
Hostels generally have lockers for their guests so security shouldn't be an issue even when sharing a room with a bunch of complete strangers. Apart from the communal area which is an excellent place to meet new people and share travelling experiences, some of the hostels also have a communal kitchen, which can be an additional money-saver. So, when choosing a hostel, read a few reviews and make sure it corresponds to your needs and wishes (location, atmosphere, amenities, free WiFi, breakfast, etc.) and meets your budget.
There's no place like home…
But one of the best places in Zadar where you can come close to a homey feeling at a reasonable price is Boutique Hostel Forum. We are situated in the heart of the historical peninsula where we treat our guests to a heart-felt welcome and like to surprise them with special treats. We not only give you a place to stay, but also the insider information and tips that match your interests. We are here to give you a unique holiday experience, a bit of adventure and a place to stay and meet friendly people who share your love of travelling, if nothing else. Who knows, your new BFF might just be your next chance roommate in one of our dorms.