Fun Facts about Zadar - Boutique Hostel Forum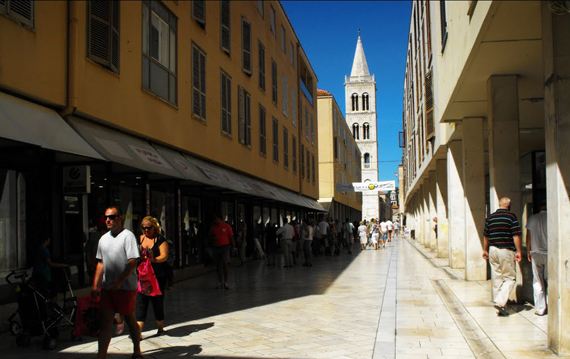 People say that it's the little things that count. It's all those little things that make us fall in love with someone or something, be it a person or a place we visit (and never want to leave). And that's precisely what modern travellers want - to not just go wherever the travel guide might take them, but rather to get the real feel and understanding of the place they visit. Sadly, the little things sometimes don't even make it to travel guides or are printed in fine print which not many people bother to read. So here are a few things about Zadar you might find interesting to know:
A wise man once said …
… that nowhere in the world can a person witness a more beautiful sunset than in Zadar. The words were spoken fifty years ago by the famous movie director Alfred Hitchcock. And they are still true. So very true.
Where the modern meets the ancient -
There's no better place to witness the breathtaking sunset than on the promenade, and concretely, next to the Sea Organ and the Greeting to the Sun - modern unique installations that have become two of the most popular attractions. They stand for urban, lively, hip, Zadar of the 21st century, but Zadar has proudly stood there for a few millennia, to which many a historical monument can testify.
It doesn't get older than 'wide'
The main street in Zadar is named Široka ulica (široka = 'wide') and it is believed it's as old, or even older, than the city itself. The Zadrans, however, refer to it by its historical name, Kalelarga. A popular song is dedicated to its significance for the people of Zadar and it has become famous Croatia-wide. In a word, it's the heart of Zadar.
A touch of Egypt, a hint of Venice
The sphynx of Zadar was built facing the sea in the garden of a villa in the Brodarica district beginning of the 20th century. Like a true sphynx, there's a certain air of mystery around it. Since it was built to celebrate love, it is also said to grant love wishes. The best way to reach it from the historical peninsula is by boat. Let a barkajoli take you in his boat and tell you a story about Zadar. After all, they've been there for half a millennium.
Basketball makes the world go round
Forget NBA, it's here where you'll find true fan(atic)s of the game. In fact, so much so that their motto is 'God may have created a man, but Zadar created basketball'. It's the number 1 sport, the pride of the city.
For the very first time …
Many firsts did Croatia experience in Zadar - the first university dating back to the 14th century; the first Croatian novel and newspaper in Croatian language were published there, the first public park Queen Jelena Madijevka was opened in the 19th century, etc. The more little things you know about Zadar, the better you'll feel its pulse, the bigger and the clearer image of the city you'll get. Believe it (and live it), it's the little things …
Image sources: www.panoramio.com