5 Reasons to Visit Zadar in Off Season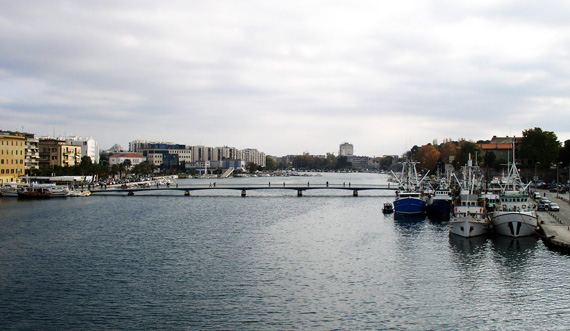 Summer's gone and you're back to your everyday life. Days are shorter and gloomier and you're a few steps away from needing a new break, even a getaway will do. One solution to your low spirits: Zadar. Sure, it's a bit risky with the weather and you won't be able to enjoy much of the sea-sun-sand package available during peak season, but there is the advantage of lower prices and avoiding tourist crowds, as well as the promise of fun events and activities.
Let's Celebrate All Month Long
On November 24 Zadar celebrates St Chrysogonus Day which is also the City of Zadar Day. You can say that the people of Zadar truly care about their patron saint and their city, because they celebrate them with great style and at length. The festivities begin early in November and include various exhibitions, sporting events, concerts, round-table discussions, lectures, theatre plays, charity events and environmental initiatives. All in all, it definitely is an all-encompassing feast that keeps Zadar pulsating all November long.
Just Cruisin'
Just as you would think that that was it, the festivities continue long after St Chrysogonus Day. A series of events named Đir po gradu (slang. 'rambling through the city') takes place from the end of November to mid January. And yet again everyone seems to be in it: restaurants cook delicious, representative food at budget-friendly price, shops have discounts and so do museums, bars have happy hours, fun center and ice rink promises additional whoopee (I mean, ice rink by the sea!). And if that weren't enough, there is plenty of merrymaking with concerts, plays, workshops etc.
10, 9 , 8, 7, 6, 5, 4, 3, 2, 1…
Happy New Year! Why not shout it in Zadar? With the promise of the most beautiful sunset to say goodbye to the passing year and to welcome the new one by greeting the sun, can it get any better? The city itself offers plenty of additional entertainment that time of year wherever you go.
The Night is Still Young …
Long Night of the Museums takes place throughout the country end of January, but it's not only about visiting museums. The event, in fact, includes concerts, presentation of cuisine and other additional activities. It's an annual event and, every year, it gets better and better with more and more people.
Looking for adrenaline?
Škraping is a competitive event that takes place beginning of March on the Pašman island near Zadar. The expression derives from škrapa, local expression for 'sharp rocks'. It's a trekking discipline which involves climbing, jumping and walking over rocks and dense vegetation. It requires skill, concentration and love of nature, but the adrenaline rush is priceless.
And more…
Apart from the ongoing festivities, museums and the adventure event, it's a great time of year to go and see the historic sights, maybe take the Zadar-Nin-Pag (on the Pag island) route. Lovers of nature can also enjoy hiking in the mountains or follow many available bike routes. All the happenings in the city itself will give you the opportunity to mingle with the locals, to get to know their customs and cuisine. Don't overthink it too much, as long as the weather is fine, you're good to go.