Why is Croatia Better Than … - Boutique Hostel Forum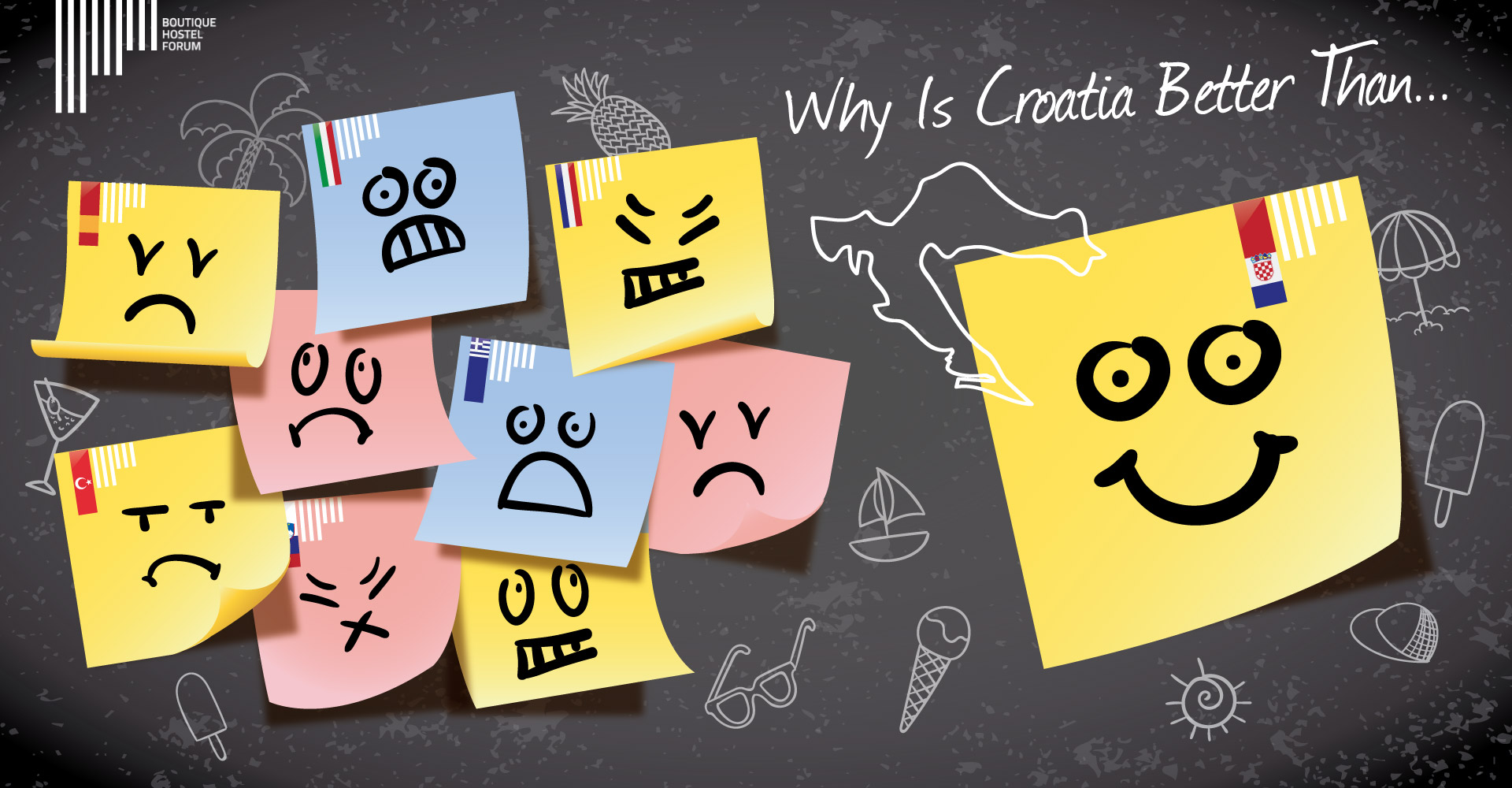 How to resist the charm of the Mediterranean? So many different countries to visit, so many different histories and cultures to learn about, so many stories they tell, so many delicious yet (mostly) healthy food to taste and even better drinks to down... Yes, many are things to see and do on the Mediterranean. So, strip off your clothes, put your red and white checkered sunglasses on and have a look at what makes Croatia better than ...
…Spain
Endless sandy beach with an occasional palm tree and clear blue horizon in the front - sounds like an excellent spot for a holiday, doesn't it? Who cares if the background is loaded with concrete, or concretely, with accommodation facilities that have mushroomed over the past few decades and changed the scenery completely. Now, that's Spain. Croatia, on the other hand, keeps celebrating 'the Mediterranean as it once was' with its picturesque fishermen's villages, numerous islands and islets with hidden coves. Apart from a few excellent sandy beaches such as the Sakarun beach on Dugi Otok island which correlates to Spanish beaches, the beaches are mostly rocky or pebbly, and not sandy as much. No sand? Yes, no sand and that means no sand in your eyes, no sand in your ears, no sand in your a.., well armpits. Croatian beaches are also surrounded by the cool shade of the refreshingly scented pine trees and the lulling sound of the crickets chirping. Charming and irresistible.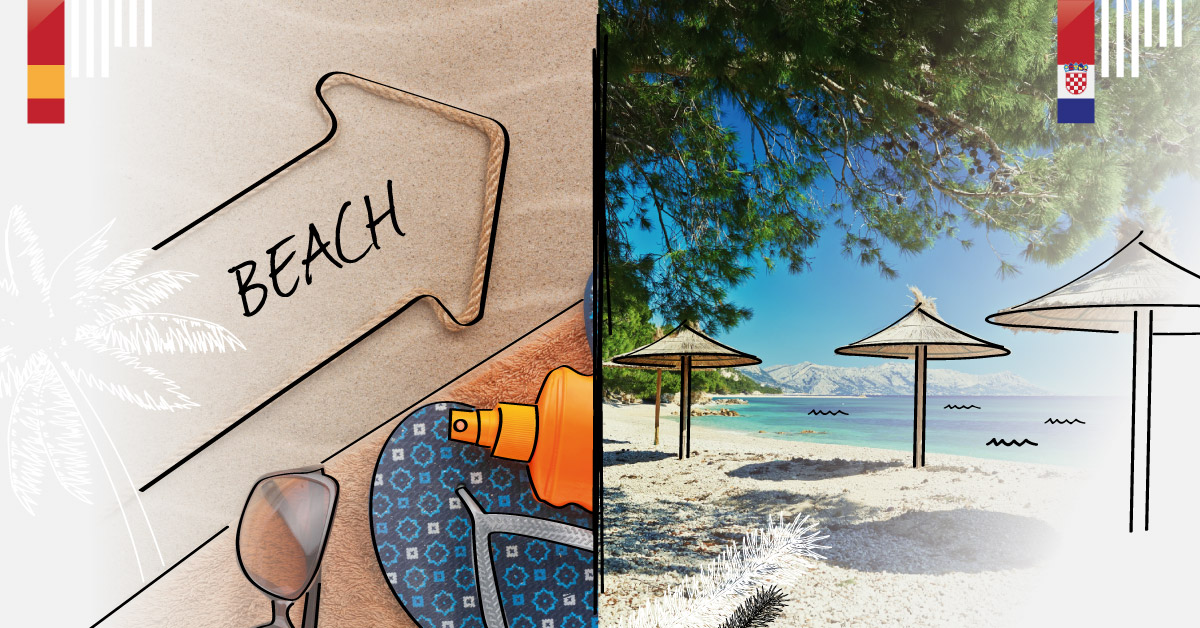 Speaking of naptime, the Spanish know very well how to take a peaceful afternoon rest, or siesta as it is called. Still, it doesn't come even close to fjaka - which refers to a specific state of mind, particularly venerated by the Dalmatians. Fjaka may or may not include sleeping, but it's a state in which you don't give a f… about what's happening around you, cause you're in your own private zone of 'don't disturb'. On the other hand, people are party-ready non-stop. While Spain's party destination number one is obviously the lovely Ibiza, Croatians party all along the coast and on the mainland as well, from Zrće beach on Pag island to festivals such as Ultra Europe (Split), Terraneo (Šibenik and Zadar) and InMusic (Zagreb). So, take a pick and face the music, cause in Croatia it simply doesn't stop.
...France
A country with one of the most visited cities in the world, Paris - is it even possible to top that? Hell, yeah! The French capital is known as the most romantic city in the world, a place where you can swear eternal love and lock the deal on the Pont des Arts bridge. Or, so you could - these days you are encouraged to take a selfie on the bridge with your dearest instead, which, let's face it, takes all the fun out of it. That's why Zadar is so much better - a place where you can have the most romantic date ever with the sound of the Sea Organ in the background as you witness the best sunset in the world. And that's a fact!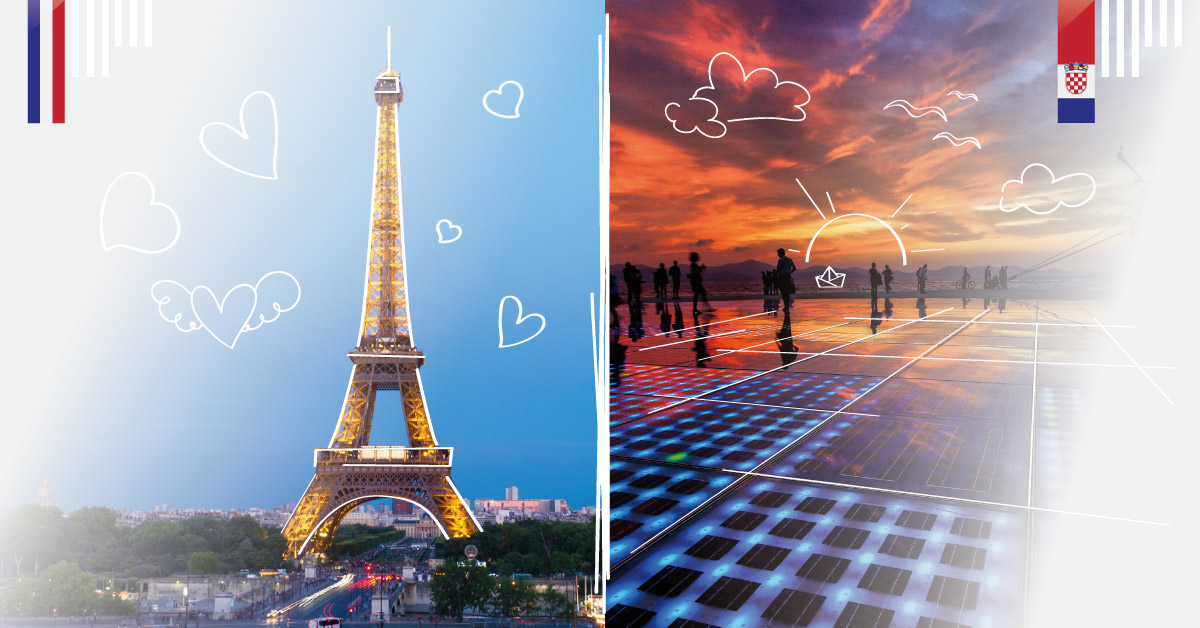 Speaking of the charming seaside, it's so easy to become absorbed in the delightful play of blue, so characteristic of the French Côte d'Azur, until one witnesses Plava špilja (its translation being simply 'Blue Cave', which cannot do justice to the array of blue this natural phenomenon on Biševo island hides) or the interplay of colours of the blue and green spectrum found on island of Mljet. In contrast to the delightful yet exclusive (read - an extreme budget headache) French riviera, Biševo and Mljet represent pristine nature at its best, where you don't have to be loaded to fully enjoy it.
And while in France, don't you dare try to speak the language. Just attempt a simple bonjour ('hello') and a phrase or two of the tongue-twisting language and you're heading towards disaster right from the start. The response to such a well-meant display of appreciation ranges from ignoring, cross looks and disgruntled mumbling of bonjour (or is it maybe a misinterpreted tongue-twisting swear word?). Quite the opposite are Croatians who are thrilled when their guests can handle a few useful Croatian expressions. In fact, they can be a definite ice-breaker and door opener to hanging out with locals. Yes, dobar dan ('hello') may even turn out to be your currency for a free drink. While Croatian wines are equally excellent when compared to the probably more renowned French ones, if you get the opportunity to try a homemade wine by your Croatian host - just say živjeli! and you do as the Romans, or in this case Croatians, do.
…Italy
Rome, oh the eternal Rome! In the midst of the capital of the world, as it used to be called in the Antiquity, proudly stands the Colosseum as a symbol of wealth and power. But why wait and queue for hours to see it, when its counterpart Arena in Pula is simply better. It is a bit smaller, but in this case size really doesn't matter, since this Roman amphitheatre is the only one in the world which has preserved all four side towers. Unlike its Roman counterpart, Arena is also used as a music venue where concerts of all kinds of national and international music simply sound out of this world.
As you go sightseeing along the coast and particularly in Dalmatia, beware of the curious eyes that keep undressing the girls - you are looking at the unique specimen of lover, the so-called galeb ('seagull'). Its name suggests the kind of abrupt approach and irresistible pick-up lines you can expect. When compared, the Italian macho lover looks like an absolute beginner.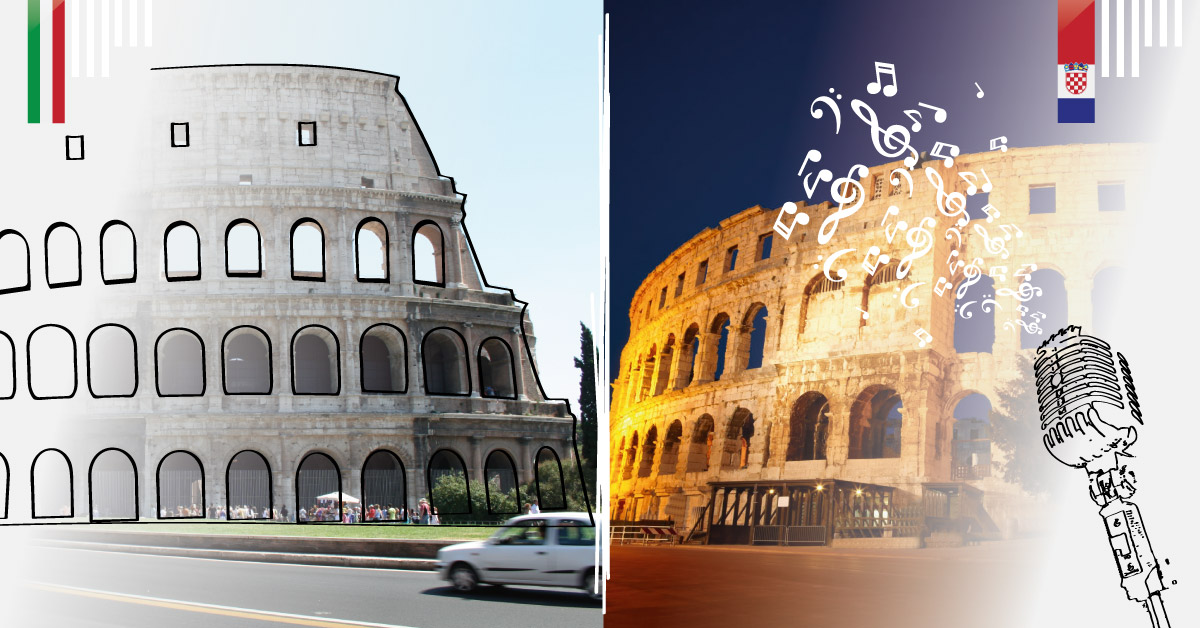 Talking about hooking up, you think Italy is a funnily shaped country? That hooker boot really is something. In comparison, Croatia's shape also resembles a shoe - that of a horse, but hey, at least a horseshoe is a luck bringer. Being immediate neighbours, the two countries share much of their histories as well as lifestyle and cultural traits to some extent. The Italian influence is evident all along the Croatian coast, one example being the cuisine. While it's hard to decide whether Italian prosciutto is better than Croatian pršut or vice versa, one has to give some credit to Italians for inventing pizza and pasta. Still, when you try lamb meat or e.g. octopus prepared peka style in Croatia, your taste buds will experience most heavenly flavour ever. Simply yummy.
...Greece
Bow to the country that gave the world the basics of maths, philosophy, democracy, theatre, Olympic Games, great architecture, etc. A symbol of its glorious past is clearly the Acropolis in Athens with Parthenon, a former temple built for the gods. Still, to get the full picture, you'll have to visit the British Museum in London which owns and displays the original statues from the Parthenon. Aside the invaluable cultural-historical significance of this masterpiece, at first glance the Acropolis feels lifeless and deserted, so very different from the lively and boisterous Greeks. By contrast, life has never left the historical complex of the 4th century Diocletian's Palace in Split. The constant intermingling of the locals, some of whom still live in the historical core, and the visitors creates an exciting buzz. Here you'll also get to see what taking it easy is all about.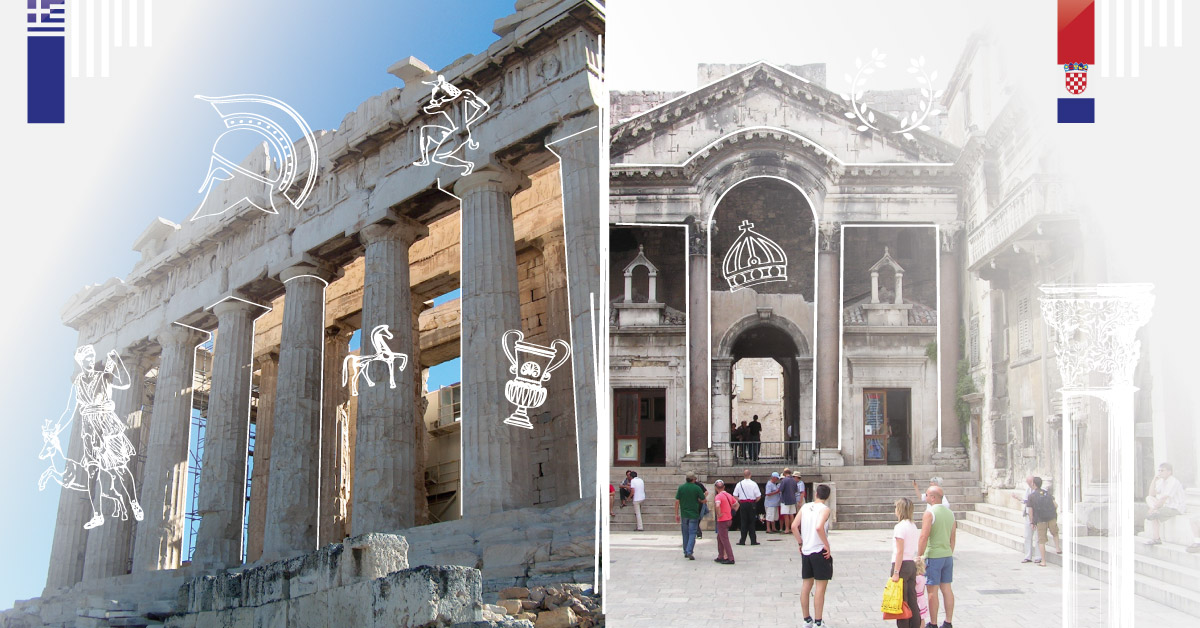 When it comes to choosing a holiday destination, both Greece and Croatia have a great number of islands and islets, and choosing between the charming Santorini, Mykonos, Crete, Corfu and the gorgeous Korčula, Hvar, Brač, Mljet, Vis, Krk, Pag is simply impossible - so many picturesque places, untouched nature and extraordinary landscape to see, so difficult to choose from. They are also places where preserved traditions are part of the charm. And if you think that the Greeks have a wacky way of celebrating weddings, you ain't seen nothing until you witness a traditional wedding in Croatia - which is basically a performance with clearly set roles, with a bit of cross-dressing involved while 'buying', yes, that's correct, 'buying' the bride, with breaking plates and making the guests pay for a dance with the bride until her groom finally 'saves' her, and so on. If all the ceremonies are accompanied with rakija, people get hammered quite soon. That's why Croatians like their fruit - they use it to produce rakija. While Greek uozo is strong, rakija will take you on a journey you've never been before.
…Turkey
Croatians and Turks have one thing in common - their love of coffee. Actually, it's basically an excuse to engage in careless chit-chat for hours on end. In Croatia the art of drinking coffee adds a bit of a fjaka element. It's not only about a good round of gossip, it's about avoiding or at least postponing what needs to be done. Sipping coffee in the cool shade while observing the waves and the seagulls in action - that's pure relaxing holiday (entertainment).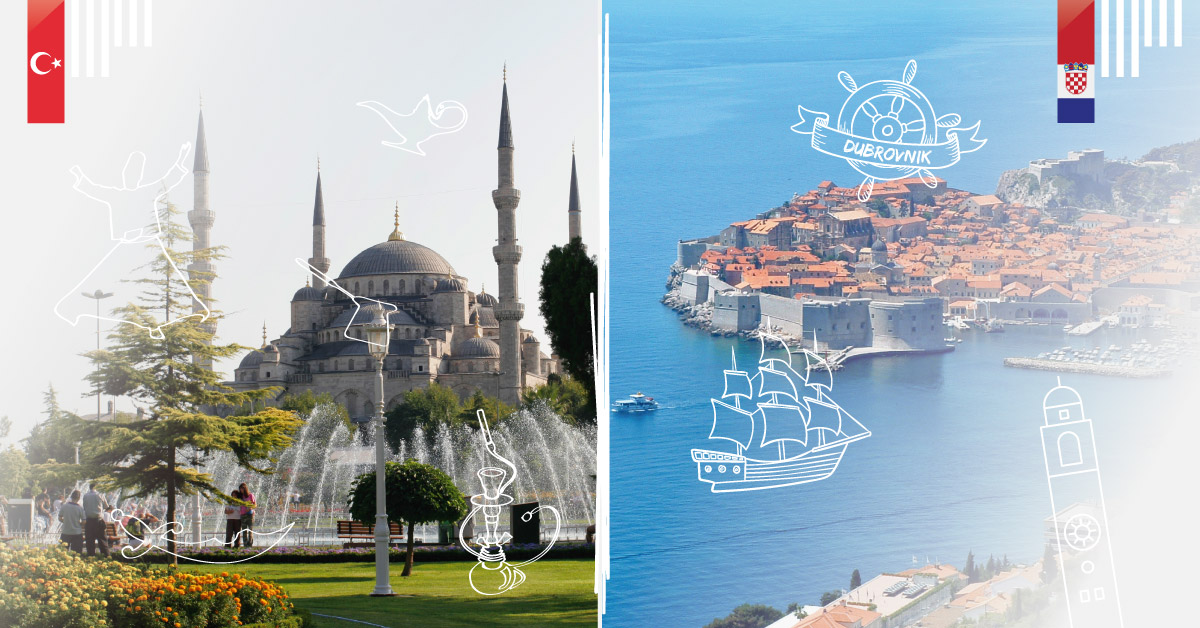 The coast of Turkey, just like the Greek and Croatian coast, is a paradise for fans of sailing. However, its most exciting destination is Istanbul, a city of great cultural-historical relevance, a city where East meets West in all respects. As you go sightseeing, you yourself might become the attraction, particularly if you wear a clear foreigner look. In case you find yourself in a situation of unwanted attention, pretend like you don't understand broken English (say whaaat?) or just press the 'ignore' button and that's it. Croatian counterpart to Istanbul is the one and only Dubrovnik, a mighty city still standing strong. Unlike Istanbul, upon arrival in Dubrovnik by plane, you can be sure to get your luggage. After a day spent sightseeing in Dubrovnik you can actually find refreshment in the clear blue sea. Not something you are recommended to do in Istanbul. Since the water lacks the 'clear blue' element.
...Slovenia and Montenegro
Slovenes and Montenegrins share some similarities with Croatians, having been neighbours since forever. All three countries also have their share of the Adriatic coast, but Croatia has the overwhelmingly greater piece of the delicious cake, while Slovenia and Montenegro basically have only crumbs. Slovenia's other attractions include lovely Lake Bled and Lake Bohinj, but the beauty of waterfalls and cascades of the Plitvice Lakes or Krka River in Croatia is simply unparalleled. When it comes to people, Slovene girls are famously pretty, even a song is dedicated to that, but there is something about the long-legged, tanned, fashion-conscious Croatian gals.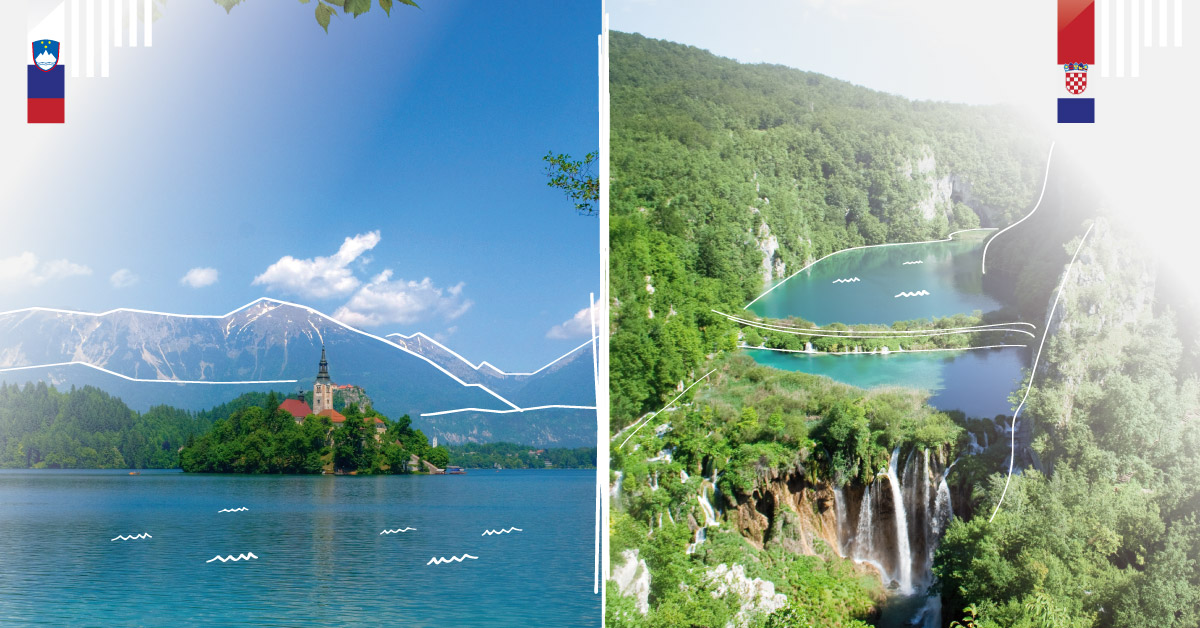 Similarly, the most renowned seaside Montenegrin resort is Budva, but charming as it may be, Hvar island in Croatia is absolutely captivating and a step ahead in every respect. And if you happen to mistake fjaka for idleness, then let a Montenegrin show you the meaning of bone idle. Because in Montenegro even the clocks don't feel like ticking. Or so they say.
And so a red and white checkered perspective of what makes Croatia so much better than Spain, France, Italy, Greece, Turkey, Slovenia and Montenegro comes to an end. Still not convinced? Let's go again - Dubrovnik, Split, Zadar, Pula, Hvar, Mljet, and and and - and this is only the seaside. Now, let us turn to the mainland …