Taking Home a Piece of Zadar and Croatia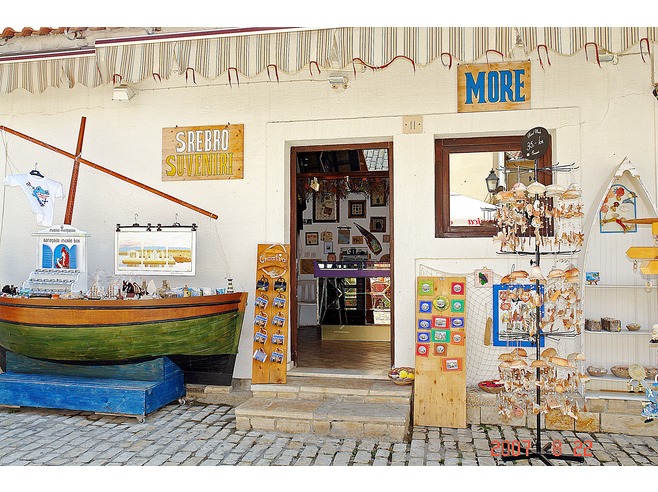 Souvenirs… Those little reminders of the place we visited, an unusual custom that amazed us, wonderful taste that delighted our palate. Everytime we touch them, taste them, admire them on a special place in our home, we recollect the amazing holiday we had in a place we definitely want to go back to. You may go for a magnet representing a famous Zadar attraction that you buy on a stall as you rush to whichever party pole you're being drawn to, or you may go for a truly authentic (local) product. It really depends on you, your budget, size of your suitcase, and, most importantly, your personality. Here's a list of suggestions to choose from:
One's gotta dine ...
Meet and share a meal with local people and learn about the culture, tradition and the country in general over a slice of šokol (smoked pork neck as produced in Nin near Zadar) accompanied by a few pieces of Paški sir (cheese from the island of Pag) and sweeten it with some dried fig jam. Round it with a glass or two of excellent local wine or Maraschino cherry liqueur, and there you have it - great Croatian dining, a taste of which surely you'll want to take home with you.
One's gotta get dressed ..
Roam the less known streets of Zadar in search of boutiques with truly original clothes and/or accessories. Or, treat yourself or your (girl)friend to a unique piece of jewelry. Fashion need not be your thing, but you can simply grab a piece of red-white checkered item representing the Croatian coat of arms. Either way, you'll bring home something different, something Croatian. Your suitcase's already full? Well, then try and make just a bit of room for a little bag of lavender or other lavender-based souvenir. Let the scent of the Croatian seaside refresh your home.
And a few surely-you-didn't-know souvenirs…
If you're a member of a keyboard-oriented generation, go retro and buy a pen by Penkala. Penkala was a Croatian engineer who invented numerous items, among others the fountain pen. Hence the name. Another frequently bought souvenir from Croatia is a necktie. A few centuries ago, the Croatian scarf as a part of the military uniform became popular on the French court and spread worldwide from there and then on. Choose the best tie in the world and keep Croatia close to your heart everytime you wear it.
It's personal …
Use your recently acquired pen and handwrite a travel journal, noting down your impressions along the way and keep all the tickets, maps, menus and other freebies. You could also send yourself a postcard from every place you visit, and they'll wait for you when you get home. Or, like many contemporary travellers, keep track of your trip by posting, twitting, instagraming etc. In fact, you don't have to spend money at all on memorabilia. Keep a few pieces of Croatian currency, kunas and lipas - in a few years time, Croatia is bound to enter the euro zone, and then you won't be able to get them anymore. Snorkel and find some shells or pebbles to remind you of your time at the beach. Just remember always that the best souvenirs are the memories, so keep them safely locked in your heart (close to your Croatian tie).
Image sources: www.virtualtourist.com