Manu Chao Concert in Zadar! - Boutique Hostel Forum
Zadar is a city of colour, a city of music, a city of excellent vibe! For sure it is, and it's going to be even brighter, more colourful, more vibrant in July 2015 when Manu Chao featuring La Ventura add yet another touch of excitement to the heated summer ambiance. Because he is different. Edgy. With the sharpest tongue ever. He doesn't hide anything. He says it, sings it and plays it as it is. And he is going to hold a concert in Zadar. Do you really wanna miss that? Really?! Didn't think so.
Me gustas tú

From his neighbour and the way she cooks to marijuana, Manu Chao likes a lot of things with this song (Me gustas tú - ' I like you'), just as as his audience likes him. Born José-Manuel Thomas Arturo Chao, the multifaceted musician and producer was raised in France where his parents had moved from Spain. Surrounded by artists and intellectuals in his childhood, Manu grew up to become an influential musician and activist, who combines revolutionary ideas with expressing the need for peace, equality and justice for all. His universal appeal also comes from the fact that he performs in Spanish, French, English, Portuguese, Arabic and a few other languages.
Que horas son, mi corazón
('What time is it, my love?') My dear, it's 9 p.m., Friday, July 17 2015… and the concert is just about to start. Once Manu Chao and La Ventura take the stage, a very merry, energetic, lively performance is what everyone is going to witness and partake in. Their music is an instant mood uplifter and it makes you move. No excuses, no exceptions. The open-air concert in Zadar is going to be held in Jazine, but the whole city will get to hear the unique Manu Chao sound which combines seemingly incompatible genres: punk & rock, French chanson, reggae, ska, Algerian raï and salsa. He simply makes the impossible possible.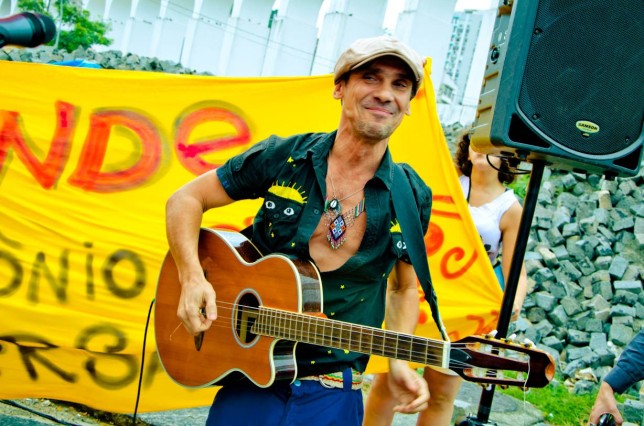 The fact that Manu Chao sings about a variety of topics adds another dimension to his music. He sings about love ups and downs (La despedida, 13 días, Me gustas tú, to name but a few songs), highs and lows of contemporary life in general (songs such as Mundo revés, La vida tombola, Luna y sol) and criticizes politicians and their unwillingness to truly tackle contemporary issues such as immigration (Clandestino, Politik kills). The beauty of his music is that it doesn't leave a bad taste in your mouth. On the contrary, it raises awareness, spreads the message, but the whole show is just a celebration of togetherness and unity, because that's precisely what happens between Manu Chao and his audience.
Welcome to Tijuana, erm, Zadar
Dunno about tequila, sexo, marijuana (no need to translate, or is there?) which go with Tijuana, but one's for sure – in July Zadar welcomes one of the most forward and entertaining contemporary artists. If you happen to be in Zadar, don't miss the concert. You won't be in Zadar at the time? Well, you should. As Manu Chao featuring La Ventura are going to perform in concert and everyone who is going to attend, is one lucky bastard. After all, the bend is not called La Ventura for nothing (ventura = 'luck').