5 Reasons to Go Rafting on the Zrmanja River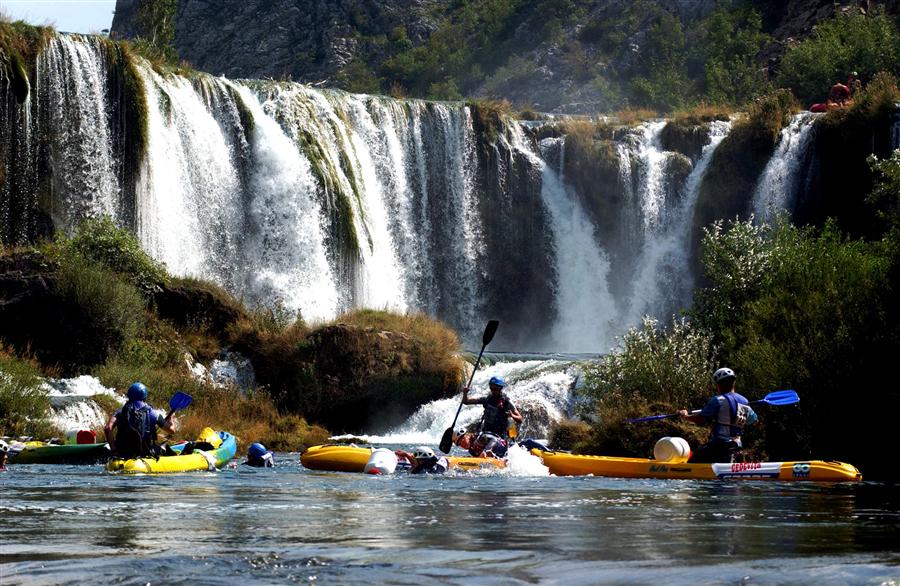 Zrmanja… Zrm-, say whaaat?! Yes, it's one of those lovely Croatian geographical names, so difficult to pronounce, but well worth remembering. It refers to a 69-kilometre long river in the Zadar hinterland that flows from southern Lika, ie northern Dalmatia, towards the sea. Together with its tributary Krupa, it's a remarkable place for rafting trips in spring (particularly April and May) and autumn, as well as kayak and canoe trips during the summer. It's a lovely place to actively spend a day or even a few days. It simply is a place to see and here's why:
Nature
Amazing, breathtaking nature. Zrmanja begins its journey towards the sea from a valley, then it flows through a 200 metre deep gorge. A variety of travertine formations such as caves, rocks, cascades and waterfalls, e.g. the 11m high waterfall called Visoki buk, as well as undercurrents and rapids are not the only remarkable natural phenomena. The practically untouched nature with rich biodiversity along the river is absolutely awe-inspiring.
Adrenaline
Rafting is the ultimate rollercoaster ride, only it takes place in nature and it's completely unpredictable. As you head downstream, you'll feel your heart pounding, butterflies fluttering in your stomach, the adrenaline rushing through your whole body, and you'll know you're alive. Challenging and pushing yourself to the limits with a happy outcome is also an utter stress relief. It also teaches you that even seemingly difficult tasks can be overcome, a useful inspiration for returning home from a holiday.
Exercise
Think it's the river that takes you downstream? Think again. As much as in hindsight you can enjoy remembering the sail, in the actual moment all your senses and muscles are heavily involved in the process. You get to swim, paddle, continually trying to keep balance and, most importantly, you get to laugh your heart out (and train stomach muscles at the same time) whenever something unexpected surprises you, even if it's just a splash in the face. At the end of the day, you'll know the true meaning of the expression 'worn out', because that you will be.
Team building
Rafting on Zrmanja gives groups of friends the opportunity to bond, to strengthen ties between each other, because all differences have to be put aside in order to work together no matter what. It's just one brilliant holiday experience you'll always remember with joy.
Truly unique experience
No rafting trip can ever be the same, simply because you can never know how kind, playful or angry the water of river Zrmanja can get. But a few things are sure - you'll learn a lot about yourself, your friends and you'll also have an immediate contact with local guides. As true professionals, they will make sure your trip ends safe no matter how much adrenaline-ridden, but they will also give you insider tips about the Zadar region, teach you some nature survival skills and show you the very best of Zrmanja river and gorge. Needless to say, the food doesn't get any tastier than after having spent the entire day fighting water. Most trips also include local cuisine meals, so you might just be in for an additional treat. In short, you'll be surrounded by pure nature and cheerful people full of optimism, and you'll have a blast before, during and after rafting. Now that's a promise!