FIMBA World League 2015 in Zadar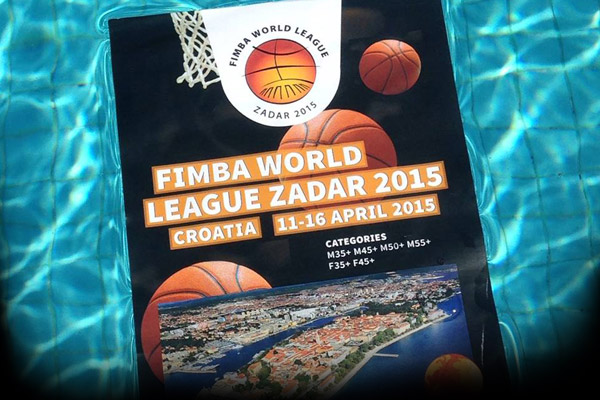 Ball - a round object that makes the world go round. Indeed, in Zadar everything revolves around the ball and if you want to strike up a conversation with a local, forget about the 'weather', just mention 'basketball'. It's the number one topic that makes the eyes of any Zadran shine. In fact, the city even prides itself on having invented basketball - hence the line 'God may have created man, but Zadar created basketball'. So, when it's all about basketball, you might think - oh, just another ordinary day in Zadar. But the coming few days are going to be very special (basketball) days in Zadar, because the city hosts FIMBA WORLD LEAGUE competition.
The Tournament
FIMBA World League gathers teams of former basketball professionals from all over the world who continue to compete once they finish their professional sports careers. From April 11 till April 16 2015, Zadar welcomes the 'veterans' of the sport, round 50 teams from 30 different countries. The teams are divided into several age-related categories ranging from 35 to 55 years of age. Over two hundred matches will be played in those five days in the Krešimir Ćosić basketball hall which receives 8000 spectators. The official ambassadors of the event include former basketball stars such as Stojko Vranković, Dino Rađa, Gregor Fučka and other. In addition to the numerous matches, the 2nd FIMBA Europe Conference will be held and basketball officials from more than 30 countries are expected to attend the event. The tournament represents a real treat for a city crazy about basketball, but that's not all ...
Around the ball
The city not only loves basketball, but it also uses any occasion given to celebrate it. In other words, the tournament will be accompanied by merrymaking not just in the basketball hall, but also around the entire city. Yes, the city will play ball and have a ball. The official opening will begin in the morning April 11 and it will include a parade from Trg pet bunara (Five Wells Square) along Zadar's most famous street Kalelarga (officially Široka ulica) towards Forum. Several hoops will be placed along Kalelarga so that everyone can try out street basketball, while the visitors will be able to enjoy traditional products at a fair. In the evening a welcome party and a concert will be held at Narodni trg (People's Square). In fact, parties in popular bars in Zadar are planned for each evening of the tournament.
The ball is in your court
In the coming days Zadar will be occupied by basketball players, officials and fans, and that even more so than usual. The city will be wrapped up in a very special and exciting ambiance, since it will celebrate its favourite sport on and off court. You needn't be a basketball fan(atic) to want to be there, cause it'll be faballous. So, come and let's play!