Trekking in Zadar - Boutique Hostel Forum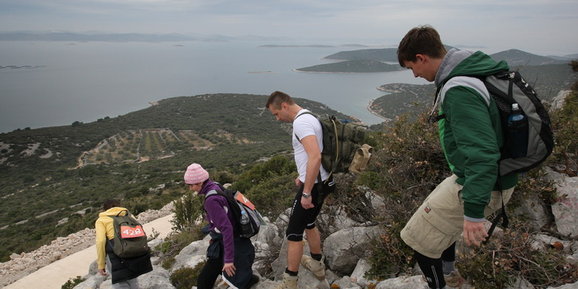 It's about disconnecting. And not (only) because you'll go where your mobile network has never been before. It's about exploring the famed beautiful nature in Croatia. It's about getting back to basics, getting in touch with nature and your inner self. It's about taking a breath of fresh air away from the hustle and bustle of everyday life. Here are a few reasons why Zadar is a great destination for trekking lovers:
Trails
A few hours of hiking will do it for you? Or you're looking for a longer, more challenging trekking route? You name it, in the vicinity of Zadar there's a lot to choose from. NP Paklenica and the rest of the Velebit mountain have hundreds of kilometres of marked trails. Or don't go hiking in the mountains, but rather head to the sea and explore the trails on the islands of Ugljan, Pašman, Pag and Dugi Otok.
The views, oh, the views …
There aren't many places in the world where in such a small area one can admire nature's magnificence to such an extent. The pristine nature with its amazing flora and fauna and the wondrous geomorphological shapes will amaze you as you climb the Velebit mountain, but the view from the top will take your breath away, because you'll get to admire both mountainous and seaside scenery in one. And as you go trekking on the islands of Ugljan, Pašman, Pag and Dugi Otok, you'll not only discover secluded beaches and coves but you'll get an insight into traditional life on the island as you pass the olive groves, ancient stone houses and pine forests.
Advantages of a city nearby
The beauty of beginning the trekking adventure in Zadar, is that everything is at hand. So, even if you come on holiday totally unprepared for any form of hiking, you'll be able to acquire the basic gear in no time, in case you decide on the spur of the moment to go exploring the nature around Zadar. And if you happen to go astray and find yourself in any adrenaline-driven situation out of hand, rest assured because help will arrive soon.
And generally …
Both hiking and trekking are becoming increasingly more popular not only as a hobby but also as a way to spend the holiday. It doesn't get healthier than being active in pure nature, because you'll get to sharpen all your senses. It's also an excellent opportunity to recharge, to ponder about life and feel inspired to change whatever you feel like needs changing. Because nature is lovely, but it can be rough and once you overcome real obstacles, everyday petty grievances will become piece of cake to handle. And being away from technology will mean reconnecting socially as well, having real conversations face to face. Facebook can wait, just as any other social media you might use. There's also the probability you'll need some kind of advice or assistance from locals, which is again a great opportunity to meet new people and learn about cultural differences and similarities.
Just don't forget…
First and foremost, don't forget to inform somebody about where (more or less) you plan to go, particularly if you set off on your own. Equip yourself with proper basic gear and you're good to go. Remember to respect nature and rules and suggestions of local guides. They know what they're talking about. And finally, nature is on your side, so leave crankiness behind and be positive. You can do it.
Image sources: www.ezadar.hr