Embark on Avvantura Film Festival 2014 in Zadar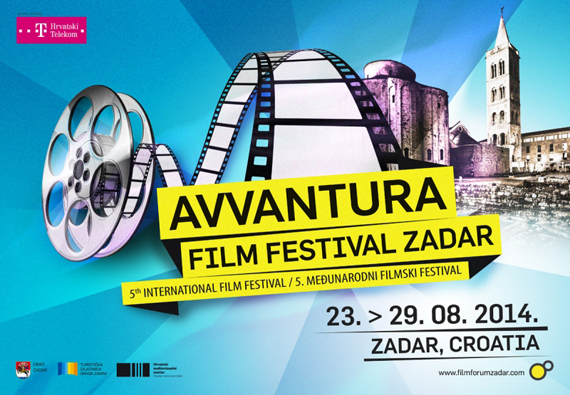 Summer in Zadar- the perfect place and time of year for carefree all-nighters out and about. It's all about the adventure of the new and unknown. Joined in a pub crawl to get to know the city's nightlife? Check. Listened to an outdoor concert because the music was too great to ignore? Check. Fearlessly roamed the streets and got lost in the city at night? Check. Watched a potentially iconic independent film in an open-air cinema under the starry sky? No? Well, Avvantura Film Festival (Cro. 'adventure') is just about to start…
See the sights, watch a film
For the fifth year in a row Zadar will host the Avvantura film festival from 23 to 29 August. More than a hundred most recent films will be screened on different locations which coincide with Zadar's attractions. The visitors will be able to enjoy watching films in an open-air cinema in historic places such as the Forum, Five Wells Square (Trg pet bunara), Saint Dominic's and Puppet Theatre (Kazalište lutaka).
Not just another film festival…
The mastermind of the festival, Sergej Stanojkovski, founded the festival with the idea to bring (back) the film industry to the beautiful nature and historical sights of the Zadar region, a place where a series of Karl May's 'Winnetou' adaptations were shot almost fifty years ago. With the popular series 'Game of Thrones' already being filmed in Dubrovnik, Split and Šibenik, it's only a matter of time when film-making returns to the Zadar region as well. However, promoting Zadar is not Avvantura's only objective. It focuses on European co-productions, gives the opportunity also to film-making freshmen to screen their work and serves as a platform for information exchange and potential cooperation between film industry professionals. It's the only Croatian festival supported by Eurimages and European Film Academy.
Young, but big ...
Avvantura film festival may still be in its infancy, but it still gathers round two hundred prominent international and European filmmakers. To name but a few, this year three Oscar winners are expected at the festival: Branko Lustig (won two Oscars as the producer of 'Schindler's List' and 'Gladiator'), Allan Starski (won the Oscar for Art Direction/Set Decoration for 'Schindler's List') and Čedomir Kolar (won the Oscar as the producer of 'No Man's Land'). They will be joined by a number of other eminent names from the international and European film industry.
And a lot more ...
Avvantura's partner countries in 2014 include Iceland and Slovakia and they will be represented by a variety of films. A special section will also be dedicated to contemporary Brazilian cinematography. The core of the festival are, nevertheless, films made in European co-productions. The best film as selected by the panel of judges will be presented with the Zlatna Maraška (Cro. 'Golden Maraska') award, while unique contribution to the film industry award Tomislav Pinter will also be given. The festival's program goes even wider with accompanying activities which include international conference of cinemas Kin Kong, conference Torino Film Lab, screenplay program AdaptLab, workshops, seminars and panels.
Adventure sets off
If you happen to be in Zadar, surely you won't be able to resist the starry sky, historical sights and open-air cinema with great flicks. And if you didn't plan to come to Zadar end of August, use Avvantura film festival as the perfect excuse. Just pack your bags, board a plane and say: Avvantura, here I come!
Image sources: www.zadar.travel