Happy in Zadar When it Rains - Boutique Hostel Forum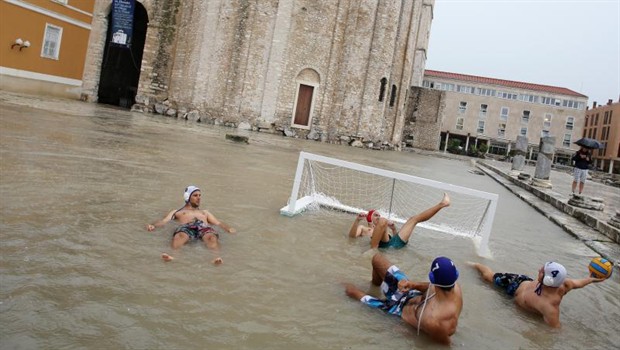 Zadar - one of the best destinations on the Croatian coast for a holiday and/or at least an excellent starting point for exploring the country. The promise of warm and sunny weather generally stands for more than just summer months, even though some unfortunate turn of fate might bring rain and showers even in the summer. What can you do in such a case? You can cut short your trip, stick around and mope about why it always rains on you, or you can do something about it and find the bright side of rain. Here are a few suggestions about what to do in Zadar when it rains:
Discover culture
Bad weather is the perfect excuse to really get to know the city to the core. Sightseeing with an umbrella has its charms and there certainly are plenty of attractions to see while enjoying a light walk in the rain. Let your curiosity be the guide. If you prefer to stay indoors, consider spending a part of the day in one of Zadar's museums. Don't miss out one of the oldest museums in Croatia, the Archaeological Museum, or Museum of Ancient Glass with one of the greatest collection of ancient glass in Europe. If you're curious to learn about the traditional way of life in rural Dalmatia, visit the Ethnological Department of the National Museum. This is to name but a few of museums and galleries to visit in Zadar.
'Me' time
Treat yourself to some 'me' time. After all, you're on holiday and while you may be relaxing your mind throughout your trip, you can also do something for your body. Go for a swim in the swimming pool or do some exercise in the gym, sweat your stress out in a sauna, let yourself be pampered with beauty treatments and massages. Just take it easy.
Embrace the rain
And don't let it get to you. Instead of buying souvenirs, pick up a few postcards and hand-write a very personal note to your friends about your holiday. Or if you prefer to stick to modern media of communication, get in touch with local people who can give you the best insider information about what's on in the city. Browse the Internet for Croatian cuisine and indulge in an afternoon tasting all the amazing flavours of Croatian dishes and wine, or stuff yourself with pop-corn while enjoying a film (original with subtitles, as the majority of the films are). Don't wait for the evening to come to embark on a pub crawl. Do it yourself, and the longer you stay, the less you'll worry about the weather.
Allow yourself to go wacky…
For once. You don't feel like doing anything of the above mentioned, but would rather go to the beach? Don't let rain stop you, going into water while being washed by the raindrops is a unique experience. And if nothing else works and the showers start really to get to you, look outside and you might see a few locals playing water polo in an improvised pool by the St Donatus' Church. Fun aside, such a sight is an example of how to make to most of any situation. Just keep in mind that every cloud has a silver lining and don't let anything spoil your holiday.
Image sources: www.tportal.hr