Top 5 Dalmatian Cities - Boutique Hostel Forum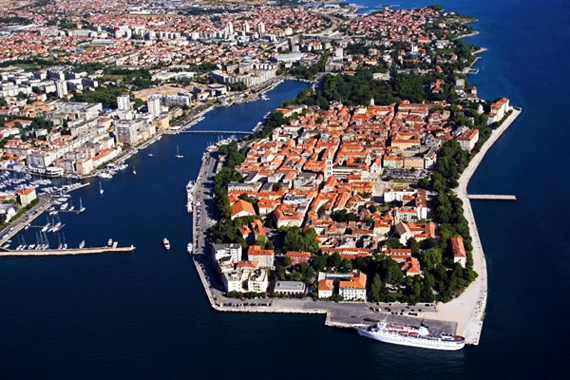 Dalmatia is a part of Croatia that roughly coincides with its four southernmost counties: Zadar County, Šibenik-Knin County, Split-Dalmatia County and Dubrovnik-Neretva County. Its names also hint at their most prominent cities. Are they the loveliest places in the most-visited region in Croatia? Well, it's better to leave it to the eye of the beholder to judge. One thing's for sure, they are the largest cities in this area and, accordingly, truly have more to offer to a modern traveller than smaller towns and villages. Here are the magnificent five, listed according to their geographical position from the north to the south:
Zadar
More than two millennia old, Zadar has quite a story to tell about its turbulent past, and a great number of historical monuments to testify to that: the Forum, St Donatus' Church, City Walls and Gates, and oh so many more. Nothing more than a stroll along Široka ulica, which everyone calls Kalelarga, is enough to get the picture that, despite its turmoils throughout the history, Zadar is a truly vibrant city. With its modern attractions such as the Greeting to the Sun and the Sea Organ, busy events calendar, excellent travel connections and proximity to many beautiful natural attractions, Zadar has become an inevitable stop for any modern traveller.
Šibenik
Just round 70 km south of Zadar lies Šibenik, a bit younger but still a historic city with more than one thousand years of recorded existence. Šibenik's fortifications still serve as a reminder of its relevance throughout the history. One of them, St Michael's Fortress is one of the best lookouts and with its recent renovation and construction of a summer stage for various events, it's one of Šibenik's must-see and -dos. Another incentive, particularly among younger population, is the increasingly more popular Terraneo festival. Regardless of their age, no visitor should leave Šibenik without paying visit to its famous St James' Cathedral, a UNESCO World Heritage Site.
Trogir
Another UNESCO World Heritage Site is the historic core of Trogir, one of the best preserved Romanesque-Gothic towns. It's precisely what Trogir is most famous for. Absolute must-see attractions include: St Lawrence's Cathedral with its bell tower, Fortress Kamerlengo, Duke's Palace, to name but a few. The smallest of the five cities, Trogir is situated between Šibenik and Split, less than 50 km away from each. It's the kind of city where visitors can really get the feel of the ancient Mediterranean.
Split
The second largest city in the country, Split is one the most important cities on the coast with two millennia of history to explain its prominence. Many are remains of the once great Roman Empire such as the Diocletian's Palace with the Peristyle, Gates, Jupiter's Temple, Saint Domnius' Cathedral with its bell tower (oh, the view!), in fact the entire historical complex is a UNESCO World Heritage Site. And there's so much more to do: enjoy nature and the view on the Marjan hill, play picigin on the Bačvice beach, touch Grgur Ninski Statue's golden toe for good luck and then dance the night(s) away at Ultra festival.
Dubrovnik
Once a rival to the mighty Republic of Venice, a truly unique Croatian city which, throughout its history, bought or fought for freedom so deeply cherished. The city is not referred to as the pearl of the Adriatic by chance. Its historical core (another UNESCO World Heritage Site) with its ancient walls, fortresses, palaces and inevitable Stradun (the main street) is what makes Dubrovnik the most visited city in Dalmatia. Dubrovnik Cable Car gives the visitors a chance to enjoy a spectacular view of what the city has to offer from a whole different perspective.
Can't go wrong with either …
The top five cities all boast rich historical and cultural heritage, but they are also places full of life and activities for a modern traveller. So why not go city hopping in Dalmatia? It does not only include tracing the Croatian history, but also getting to feel the pulse of these remarkable places. Indeed, Zadar, Šibenik, Trogir, Split and Dubrovnik truly are the magnificent 5.
Image sources: www.soha-yachting.com