The Night of the Full Moon in Zadar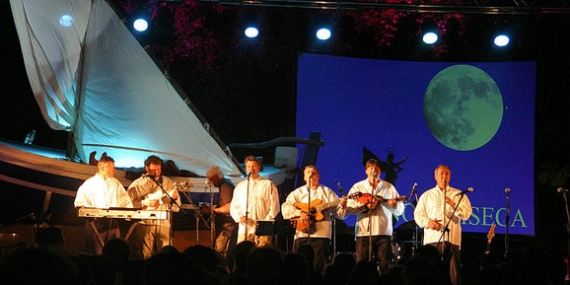 Full moon, the wolves howl, and foul creatures come out to play. Scared already? Don't be! The Night of the Full Moon held annually in Zadar is nothing of a kind and there truly isn't anything to fear. On the contrary, it's the place to be and the event to visit. Will it affect your sleep? Probably. Will it make you go crazy? Definitely, but crazy about Zadar, its culture, history, tradition, customs and cuisine.
When and Where
The Night of the Full Moon is held each year, but it's a moveable feast, because it depends on the good old quirky moon. In 2014 the Moon will shed its full light on Zadar on August 9 and that's when this traditional event takes place. The street lights are turned off, to give the moon a chance to shine in its full splendor, supported only by lanterns and candles. It's yet another opportunity to see the spectacular promenade (Cro. riva) on the waterfront in a new light, literally.
Who and What
In a nutshell, everyone is welcome. Thousands of visitors and Zadrans will create together a good vibe that comes naturally in such a great celebration of local culture, cuisine and customs. You don't have to necessarily understand the lyrics of the klapa's songs you'll get to hear, but you'll learn a lot about Dalmatian culture, lifestyle, cuisine and the sea if you do. The locals will be happy to tell you all about it, cause it's music for and from the heart. Klapa singing has been inscribed on UNESCO's list of Intangible Cultural Heritage of Humanity, so it would truly be a shame to miss the opportunity to enjoy a great a capella singing accompanied by excellent food and drinks. And whatta banquet it will be! You'll be enticed by the irresistible flavours of traditional delicacies, which include fish and sea food, but also cured ham, figs, cheese etc. And when you down a few shots of rakija or regionally produced wine, you'll know you're in a gourmet's heaven.
And here's why …
Because the Night of the Full Moon celebrates tradition, customs, and history. Because it looks back at the mutual support between the islanders and mainlanders throughout the history, teaching us the lesson of tolerance and co-existence. Because it's a festival of tradition, of what made Zadar what it is today and its people who they are. Because you'll be well dined and entertained in quite an original way. Because you'll get to experience the loveliest sunset in the world and witness the prettiest full moon. Because there'll be no howling, just a lot of people making merry. And finally, simply because you'll be over the moon to be there.