Lake Vrana – More Than a Nature Park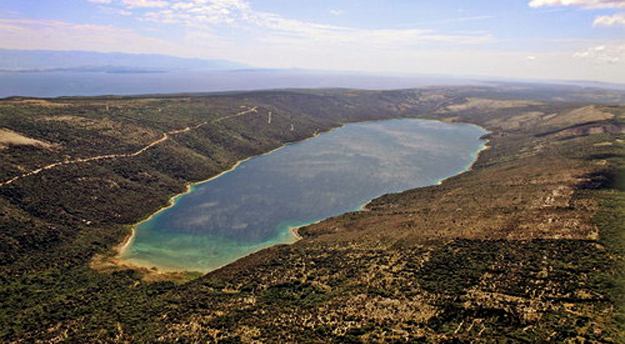 Zadar - a city in the midst of it all. You name it: history, culture, entertainment and beautiful nature, it's all here or near. Croatia prides itself on pristine nature, particularly its national parks such as Plitvice Lakes, Kornati islands and Krka river, all of which are quite close to Zadar. Ironically, they are not so 'untouched' in the summer when a horde of tourists come to visit. Less crowded, and yet again not far from Zadar, there is another natural attraction worth visiting - Lake Vrana.
It's all in the name …
Lake Vrana is the largest Croatian lake situated between the historical cities of Zadar and Šibenik stretching from north-west to south-east parallel to the coast. Due to its bio-diversity, the lake and its area was designated 'nature park' in 1999 and the surface of 57 km² is, as such, protected area. The name Lake Vrana (Cro. vrana means 'crow') is indicative of its extraordinary biological value as an ornithological reserve. It's home or haven to more than 200 bird species, some of which are endangered Croatia and Europe-wide.
More than a nature park …
Lake Vrana and its surrounding area serves as a testimony to life for almost two millenia. The pristine nature is well protected, but there are also many elements of cultural heritage which tell a story of early Croatian history. In fact, there once stood a Roman aqueduct which provided Zadar with water from the place called Vrana, which used to belong to Croatian kings in the Early Middle Ages. The area played a major strategic, economic and country-founding role throughout the history as evidenced by the historical sights that have fought a true battle with the ravages of time. Truth be told, you will have to use your imagination to get the idea what the sights such as the 4th century round fortress or 16th century Venetian frontier observation post used to look like originally, but their remains are still places of historical interest.
Go off the beaten path …
Literally. It's safe to presume that not all modern travellers are that into bird-watching or fishing, and let's face it - there are plenty of historical sights in Zadar, but … A cycling trip to Lake Vrana might just prove to be the adventure of your holiday. The cycling trail is not precisely a piece of cake with its 50 km of length, most of which is a macadam road, and its altitude drop of 99m. But when you reach the Kamenjak lookout, it will all be worth it. Apart from facilities where you'll get a chance to recuperate, you'll be able to enjoy one of the most spectacular views of the Lake Vrana, Kornati archipelago and other islands. You could even go a bit extreme and round your adventure by staying the night in a bunja, traditional stone hut without any amenities of modern life whatsoever. Granted, it's radical, but a holiday can't get more exciting or original than that, can it?
Image sources: www.limun.hr