Boutique Hostel Forum's Birthday Bash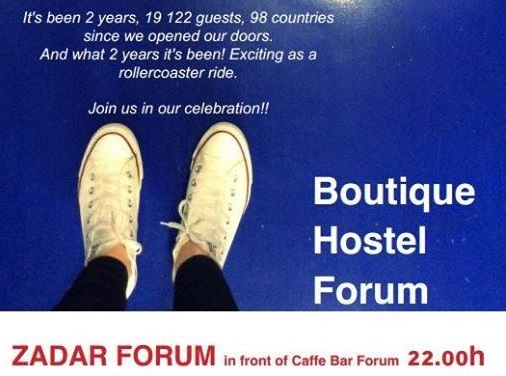 The b(ig) day is here, just round the corner. Boutique Hostel Forum celebrates its second birthday with its third major celebration. Naturally, the third celebration deserves a three-day party and that's exactly the kind of treat Forum has in store for anyone in Zadar in the following few days. Witness a quite original birthday bash in the very heart of Zadar and here are some hints for what lies ahead.
Light cannon and Bambi Molesters
Day 1, July 28.. 'Cannons and molesters' - sounds kind of hostile, doesn't it? Don't worry, it will be anything but. If you've already visited or stayed at hostel Forum, you must have noticed its modern, original, colourful, distinctive interior. And now, you'll have the opportunity to enjoy an equally stunning view from the outside thanks to a light show, which will include a light cannon. But that's not all. The light show will, in fact, accompany the performance by Bambi Molesters. The Croatian 4-member band will celebrate 20 years of existence next year. They have collaborated with many excellent musicians, featured in British and American music charts, conquered New Zealand as well, toured European countries, played as support act on R.E.M.'s European tour, had their song 'Chaotica' feature in the TV series Breaking Bad, etc. This surf rock band, famous for their energetic live performances, is a true music delicacy. You don't want to miss it. You don't want to miss Day 1.
The Godmother and Forum's blues
Day 2, July 29. The Croatian swing-jazz band The Godmother will take the stage on Day 2. The trio of classically trained musicians performs the music of some of the biggest names of modern music, such as Nina Simone, Sarah Vaughan, Ella Fitzgerald, Sting, The Doors, Leonard Cohen, Bob Marley, but they give it their own distinguishing touch. The trio will round up a successful season of the Forum Blues Bar project, but there'll be no blues whatsoever, just extraordinary music and a lot of merrymaking, You don't want to miss a band that infinitely enjoys the music they produce. You don't want to miss Day 2.
B's FUNstellation
Day 3, July 30. Fun is the key word here and that's precisely what this jazz sextet have as a group and what they guarantee to give their audience. Six Slovenian and Croatian musicians of younger jazz generation have all gone through different paths in their respective careers and have merged their influences to experiment with and produce a unique sound. And that's what jazz is all about. Have fun with B's FUNstellation and, yes … You don't want to miss Day 3.
When in Rome…
Or, more concretely, when in Forum, do as the boutique hostel does. Be fiery, be original, be innovative, be different and make a difference. Come to boutique hostel Forum's 3-day birthday bash and become a part of an extraordinary tradition in the making. So, raise your glass and… Cheers!