Perfect Diving in Zadar - Boutique Hostel Forum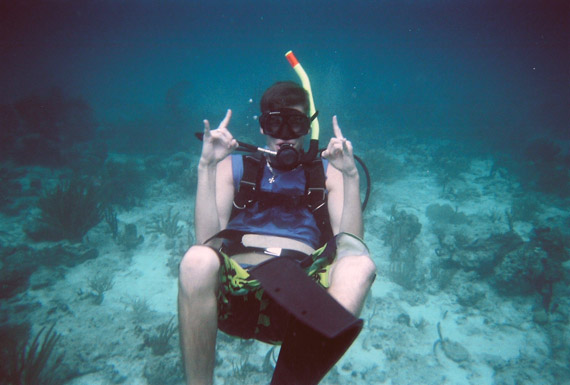 The official slogan of the Croatian National Tourist Board is 'The Mediterranean as it once was' and it refers to what Croatian coast is famous for: well-preserved nature, numerous islands of all sizes, beautiful beaches, clear water, historic ports, etc. Croatian coast truly has a lot to offer not only above sea level. More and more visitors as well as professional divers are curious to find out what lies beneath the surface. Along the coast, there are many interesting sites where divers, depending on their diving skills, can admire the flora and fauna of the Adriatic underwaters as well as shipwrecked galleons and naval ships.
Scuba diving
The best way to really get to know the underwater world is to scuba dive. However, to be able to do that, you have to go through training, you can't just slip into a diving suit and go. If you're an absolute beginner, a short course lasting just a couple of days, will be enough for you to enjoy your first diving trip in the underwaters. Wider Zadar area has plenty of diving sites for beginners and they include Tramerka island near Molat island (wall, hole), Vodenjak islet near Ist island (wall), Grebeni islets (reef), Mezanj islet near Dugi Otok island (wall, crevices, hole) as well as Rašip island in the Kornati archipelago (wall, reef, crevices, steep wall) and sunken Szent István battleship near Premuda island for more advanced divers.
Snorkeling
If you are curious about the underwater world, but diving deeper is not really your thing, you may want to try snorkeling. It's great fun and you get to see the amazing world below the surface with far less equipment than required for scuba diving and without having to do any training first. You basically just need a diving mask, a snorkel and optionally fins and you're all set to plunge into water.
And don't forget the sun sunscreen …
Whether you decide to scuba dive or go snorkeling, it's important to keep in mind a few things. in order to reach a diving site, you'll probably have to go by boat. With the boat moving and the excitement, you might feel sea-sick. Close your eyes and relax - after all, you're on holiday, you don't have to do anything that doesn't feel OK. Check your equipment and make sure it fits. Remember to take sunscreen, plenty of water and at least an energy bar, because nobody wants a sunburnt grump likely to turn into a party-pooper. And don't forget to bring along an underwater camera, if you can get hold of one. Surely you'll want to keep a record of such an adventure. By going on a diving trip, you'll not only get the chance to explore the fascinating underwater world, but you'll also have the opportunity to sail around the many islands and islets of the Adriatic Sea, particularly in the Kornati archipelago. So, embark on what could be a lifetime adventure and, simply, dive (in)!