Plitvice Lakes National Park - Boutique Hostel Forum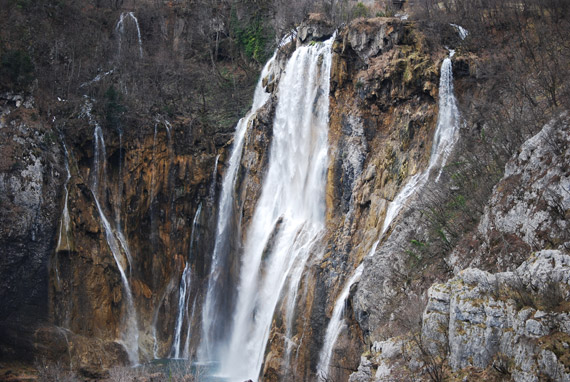 It's pristine nature with a great diversity of flora and fauna. It's waterfalls, cascades, lakes and forests. It's amazing colours ranging from azure, turquoise blue to coral green. It's peace and quiet, yet full of life. It's Plitvice Lakes National Park.
Plitvice basics
Plitvice Lakes National Park regularly tops lists of must-see attractions in Croatia, and rightfully so. National park, the largest in Croatia, was founded in 1949 and was among the first natural sites designated as UNESCO World Heritage site, in 1979. More than a million visitors come to admire this natural phenomenon every year. The Park is most renowned for its waterfalls (particularly Veliki slap ('Large Waterfall') which is 78 m high and Galovački buk ('Galovac Waterfall', smaller but with its 25 m still impressive) as well as its 16 terraced lakes. The altitude drop between the highest of the twelve upper lakes and the lowest of the four lower lakes is 133 m. And while nature's play with water and travertine barriers seems to be the most famous and photographed, you might be surprised to learn that the entire water body area forms only 1% of the entire national park area. The rest is basically land covered by forest, full of various species of plants and animals, some of which you might not necessarily wish to stumble across, e.g. the brown bear. But don't worry, it's not very likely to happen.
A piece of advice, or two …
When planning a trip to Croatia, it would truly be a shame not to include Plitvice Lakes on your itinerary. Here are some things to bear in mind:
* Time. If you can, try to avoid the peak season, as the national park is the busiest then, although it does not mean you won't be able to enjoy it to the fullest. It just means you might have to queue a bit to buy the ticket and the trails will be a bit busier. In off-season, Plitvice are just as wonderful as during summer and you get to see a different set of colours.
* Entrance fee. You can't buy it online, but will have to buy it directly. Remember to take your student ID card, if you have one, as you'll get a student discount. Also, keep your ticket with you as you will need to show it in order to use the sightseeing train and the boat over the biggest lake, Kozjak. Note that the entrance fee is cheaper in off season.
* Duration. Before coming to the national park, study its trails and decide whether you prefer to take the lighter route, which lasts 2-3 hours, or whether you are fit enough to hike the longest trail for 6-8 hours . If you are that lucky, you'll get to know how amazing Plitvice Lakes are in its entirety. Whatever you decide to do, take your time and enjoy the spectacular nature around you.
* Food and clothes. Sure, there are facilities where you can buy food and refreshments, but you can plan and buy ahead. Just don't forget to bring weather-appropriate clothes as well as comfortable and, more importantly, suitable footwear. Cause if you don't, it really might spoil your trip.
* Accommodation. If you wish to explore the National park in more depth than just the lake area, it would be a good idea to find accommodation. Apart from hotels and local apartments, you can also camp not far from the national park. If you choose to spend more than one day visiting Plitvice Lakes area, use the opportunity to see also Rastoke water mill village north of Plitvice, or Nikola Tesla's memorial centre in the village of Smiljan (his birthplace), southwest of Plitvice.
Waterfall and waterfall
'Slap' ('Waterfall') is one of the most famous poems written by the renowned Croatian poet Dobriša Cesarić. It's written in simple language and, yet, somehow you cannot but stop and ponder over its rich message. A similar sensation you'll get when you visit the Plitvice Lakes National Park - it's nature, simple pure nature all around, but you'll stand in awe of the force of nature capable of creating such natural beauty.