Greeting the Sun with the Sound of Sea Organ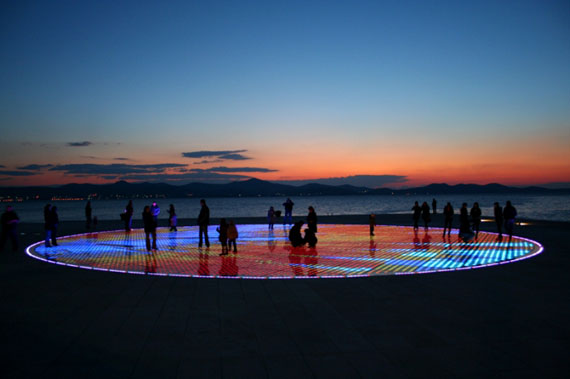 The sun is gently touching the horizon with an amazing dance of colours. As the sun slowly sets, Zadar waves it 'good night'. At the same time the light installation, Greeting to the Sun, comes to life and lights up the sky with an impressive spectrum of colours. With the sound of the Sea Organ in the background, Zadar's waterfront is home to a unique performance every single day and evening …
Music to your ears
Not more than a decade ago Zadar's sea front was just a dull concrete promenade and then everything changed when the Peninsula's outermost pier was supposed to be adapted to be able to welcome cruisers. But the architect in charge, Mr Nikola Bašić, had additional vision in mind. Apart from breaking the monotony of the promenade with a wide, elegant stone steps, which descend into the sea, a unique instrument was built in 2005. Thirty-five pipes of different length and diameter were placed underneath the steps, which produce melodious sounds by using the wave energy. The melody constantly changes since it depends on the weather and, more specifically, the waves. The Sea Organ is the work of humans and nature at its best. Could there be a better place to enjoy the world's loveliest sunset with the soothing sound of the sea organ?
A sight for sore eyes
Few years after the Sea Organ was made, Mr Bašić designed another installation representing tribute to nature quite nearby. The attraction is called Greeting to the Sun and it truly is that. It consists of twenty-two solar panels embedded in the sidewalk in a 22m diameter circle. During the day, the panels absorb solar energy which then transforms into power needed for psychedelic light show, once the sun sets. It's a tribute to the Sun and the solar system. Greeting to the Sun is encircled by a ring with engraved names of saints, symbolically protecting nature just as they watch over Zadar.
Something old and something new for the perfect union
For more than thousand years of its existence, Zadar has been one of the most significant cities not only in Croatia, but on the Mediterranean in general. A wealth of historical and cultural monuments proudly stand to testify to its turbulent past. However, the city doesn't just rest on its old glory, but rather continually boosts its attractiveness. Modern attractions like the Sea Organ and the Greeting to the Sun have already found their firm place on the sightseeing map. With the most beautiful sunset in the world, play of lights and soothing melody, Zadar has a truly unique experience in store for any visitor. It is safe to say that there is no better place to bow before the setting sun and no postcard, photo or video can match the sensation all your senses feel when visiting Greeting to the Sun and the Sea Organ.
Image sources: www.tzzadar.hr