Pag - More Than a Party Destination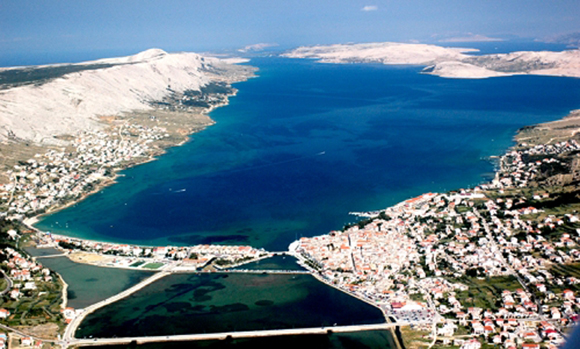 Pag, sometimes referred to as the 'island of the rock' or 'lunar island' due to its rugged surface so reminiscent of the Moon, is situated north of Zadar. Travellers of younger generation (although not exclusively) who have visited Croatia or plan to, must have already heard about its Zrće beach, one of the most popular party destination in Croatia. The parties are wicked, they really are, but Pag has so many more stories to tell.
Facts and trivia
Pag island may not be the biggest island, but it has the longest coastline. The best way to get an idea about its size, shape and structure is to climb its highest peak Sveti Vid (348m) and admire not only the remains of the 14th century chapel but also the view of the island itself, the neighbouring islands and the Velebit mountain on the mainland. Just remember to bring shades and plenty of water, because Pag is one of the sunniest Croatian islands which boasts over 2500 hours of sunshine per year. And while you're active, you might visit the freshwater (!) swamp lakes Velo Blato ('Big Mud'), Malo Blato ('Small Mud') and Kolansko Blato ('Kolan Mud'), which form part of a bird reserve due to their rich biodiversity, or you might be curious to see the Pag Triangle, a unique and mysterious land formation that has attracted many UFO-fans since its discovery.
Made in/on Pag
Pag is world-famous for its hand-made lace, a tradition that has been nourished for centuries. Not only is it a part of the traditional costume, but in recent decades it's been used to give a unique touch to clothes or even jewelry. As is the Pag lace a real must-see and possible even a must-buy souvenir, so is the traditional pastry baškotin and the locally produced wine Žutica a must-try. And while you're at it, don't forget to say cheese. Literally. Cause there's no cheese like the Pag island cheese. You cannot leave the island, nor Croatia for that matter, without having tried the one-of-a-kind delicacy, produced under distinct conditions and environmental features found only on the Pag island.
Places of interest
There are two towns on Pag, referred to as such more due to their historical importance than actual size. Pag (the town) has stood there for more than a millennium and there are many monuments as a reminder of its history: suhozidi ('dry stone walls' used as a natural border between pastures for centuries), the churches and monasteries, Duke's Palace, Skrivanat Tower with the remains of the city walls, historical salt storage facilities, and the 15th meridian which passes through Pag (town). If you, nonetheless, prefer to stick to the Zrće beach, pop into the town nearby, Novalja, and don't miss the centuries-old wild olives grove, the town museum with the ancient aqueduct or dive in the nearby bay to find a shipwreck of a Roman merchant ship.
Let Pag rock you …
The historical cities trail takes you from Zadar, Nin and onto the Pag island. The moon-like island won't take your breath away with its greenery, but it will with its parties, lovely beaches, picturesque towns and villages, and … cheese. Because the rocky island of Pag rocks. Simple as that.
Image sources: www.jovicpag.com