Wings for Life World Run in Zadar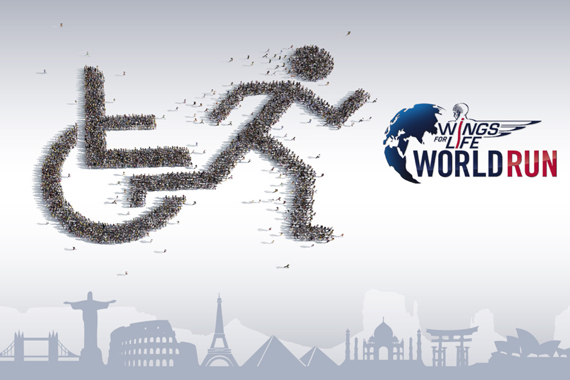 May 4 2014 is going to be one fine day. One fine day, worldwide. One fine day in Zadar, Croatia. Will it rain? Maybe. Does it matter? Absolutely not. Because it's going to be that one day when the world unites for a good cause.
What it's all about
The World Run is organized by Wings for Life, a non-profit research foundation whose mission is to find cure for spinal cord injuries which lead to paraplegia and tetraplegia. Research in the past few decades has shown that injured nerve cells in the spinal cord can be regenerated. Since research funding was scarce, Wings for Life was founded ten years ago by motorcross world champion Heinz Kinigadner and the Red Bull founder Dietrich Mateschitz with the objective to financially support the international spinal cord research. Over the years the foundation has organized a series of fundraising events, one of them being the World Run, taking place in a month's time.
The four Ws
As the name of the event itself suggests, the World Run is quite an ambitious and extensive event, so read on for a bit more clarification:
* Who. Professional athletes and amateurs, sport lovers and haters, in a word - everyone is welcome to participate in this race. Apart from paying the entry fee, there are no other requirements. Sure, it wouldn't hurt to train a bit if you really want to challenge yourself, but it's not a must. You can run a symbolic one metre, if you feel like it. It's all about participating in and for a good cause. All the funds raised with the entry fees will be used to finance spinal cord research.
* Where. The World Run takes place around the world, ie on 6 continents and, more precisely, in 33 countries. In Croatia, the World Race takes place in Zadar, with its Greeting to the Sun being the starting point. The race is categorized as a 'seaview run', because the course follows the coastline from Zadar southwards. You might be curious to know where the finishing line is - well, there's none. Read on to find out why, or more precisely how the race finishes.
* When. Believe it or not, on May 4 2014 at the exactly same time around the world. This means that Lima (Peru) begins the race at 5 am local time(night-to-day run), Zadar at noon sharp, ie 12:00 (day run), Haryana (India) at 3:30 pm (day-to-night run) and Auckland (New Zealand) at 10:00 pm (night run) local times, etc. Half an hour after the start signal, the official finisher car will set off on each course and move at an increasing pace. As it overtakes the runners, it records their time and the race finishes for them. The last male and female runners the car overtakes will become champions.
* Why. It's simple - because you'll run for those that cannot.
Just run
You may not feel like running, but you can donate money to Wings for Life foundation in different ways as well. However, the World Run is a great opportunity to participate in a unique global event, challenge yourself to spend Sunday differently, and all for a good cause. You'll want to be a part of it. Cause it's going to be one fine day, indeed.

​Image sources: www.redbull.com