Feel the Beat at Garden Festival in Tisno near Zadar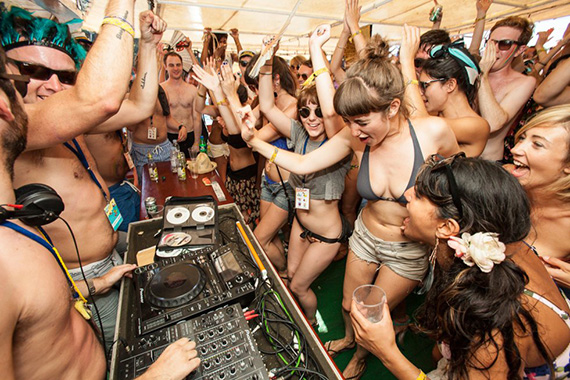 Garden - a place to sit in the shade with a drink in one hand, listening to the birds and bees with a slight breeze caressing the skin. Already created the mental image? Now, that's life, isn't it? Now add some exciting music and non-stop entertainment, beach and the sea into the equation, and you're almost there. Where, you might ask. It's quite simple - the Garden Festival in Tisno, Croatia.
From A to T(isno)
Nine years ago the Garden Festival came into being as a musical event whose primary focus was on quality music and performances, and not so much on quantity. With laid back atmosphere and excellent music, the festival soon became one of the most popular summer events with number of visitors rocketing each year.The festival was initially held in a small village near Zadar, but a few years ago it moved to Tisno, turning it into one of Croatia's most attractive festival strongholds. Tisno is a typical picturesque Dalmatian village where one can see the traditional houses made of stone, narrow streets and wide squares and it's curiously situated both on the mainland and the island of Murter, linked by a drawbridge.
Let's get this party started
Tisno, the small peaceful village, turns into paradise for party goers where the party doesn't end for a whole week, from 2-9 July. The program includes three open-air stages, boat parties, after-parties in a night club and a secret island party with various live performances and world - class DJs. Relaxing in the cool shade of the pine trees or sailing to the sound of a never-ending beat, dancing the night away under the starry summer sky, just a step away from the sea … It really can't get any better than that for any party lover.
A few good-to-knows
Tisno is conveniently situated quite close to two airports, Zadar (45km) and Split (65km) as well as many popular tourist destinations which include the historical cities of Zadar, Šibenik, Split and Trogir, national parks Krka and Kornati, to name but a few. Many coastal villages and towns famous for their exuberating night- and party life are also quite nearby. The festival lasts a week, so it would be just wrong not to use the opportunity to see a few places of interest. And if you really plan not to miss out on anything at the festival, it might be a good idea to book onsite accommodation. You can choose between apartments, tents and podpads - whatever suits you and leaves you fresh as a daisy to face festival challenges.
The Garden of Tisno
There's no need to beat around the bush - the Garden Festival in Tisno is a true paradise for all fans of electronic music and/or great parties, united in a week of adventure and non-stop dance. In addition, if you can't get enough of it, you can just stay for another week at the Electric Elephant. With its intimate setting in a bay, sandy beach and clear blue waters of the Adriatic Sea, picturesque village with friendly locals, variety of accommodation and restaurants catering to all tastes, proximity to famous attractions, open-air stages and legendary boat parties with an excellent vibe, the Garden in Tisno has become one of the most popular festivals in Croatia and wider.
Image sources: www.heathershuker.co.uk