Millenium Jump Splash in Zadar 2014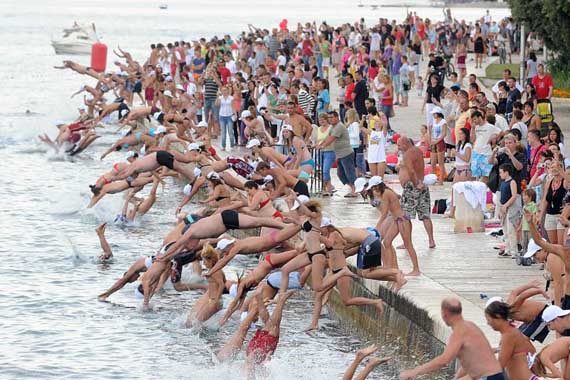 Sea, sand and sun. It's the best kind of holiday. Water fun in its every form is an inevitable part of the experience as well. It's perfect for the oh-so-needed refreshment during the summer heat, but it's also great for the possible six-pack you'll get by the end of the summer because of all the laugh you'll get by splashing water. It doesn't really matter if you go for the conventional pencil dive, wow the people on the beach with a swan dive or a forward flip, splash everyone around you by dropping a cannon ball or gain some sympathy for your belly flop (Ouch!). It's all about fun and games, literally.
One in a millenium (jump)
Zadar as a city has evolved for over two thousand years of its existence, continually refreshing itself along the way with something new, something different, something special. It was the year 2007 when Zadar made jumping into water a spectacle and the Millenium Jump been held ever since with the number of participants increasing every year. In 2013 over two thousand people participated in the event, which involves jumping into the sea from the promenade. It celebrates the (clean) sea, the unity of locals and visitors joined together in a good vibe and for a good cause, and yet again it sends out a (re)fresh(ing) message from Zadar to the world.
Taking the plunge
Round three thousand people are expected to participate in the 2014 Millenium Jump, which will take place on Saturday, July 26. It's going to be an all-dayer of splashing fun and additional entertaining activities. Divided into several groups, the participants will stand in a line starting from the Sea Organ towards the University of Zadar waiting for the starting signal. '3,2,1… Go!' These will be the words that will make a few thousand people cast themselves into water together. Apart from the pencil jump, i.e. feet- first, done by the participants simultaneously, another jump will create a domino effect when they dive one after another head-first into the sea. And if a day of water fun weren't enough, it's all for charity - the funds raised are directed towards teaching children with developmental difficulties how to swim. In addition, a free dermatologist check-up is available for everyone, not only the participants, with all the planned merrymaking in the background.
Picture that
Or better still, be a part of the Millenium Jump photo. People say, the more, the merrier, and that's precisely what's expected to happen at 2014 Millenium Jump in Zadar. Be a part of the thousands of people standing in a line, waiting for the signal to make a splash, literally. Make a splash. And show the world once again what a fun place Zadar is.
Image sources: www.zadarskilist.hr