Perfect Adventure in Zadar - Boutique Hostel Forum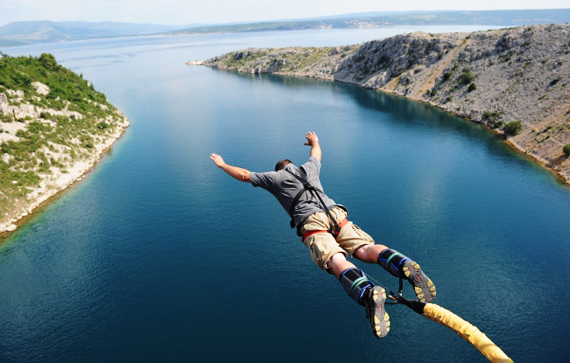 Summer? Check. Holiday in Zadar? Check. Beach, sunbathing and swimming? Check. Party all night long? Check. A trip to national parks and sightseeing? Check. Trying out traditional cuisine and delicacies as well as local wine and spirits? Check. What more could a person wish for? Well, there's one thing you could do to round off a perfect holiday. Kick it up a notch with a rush of adrenaline!
Take the plunge…
The view is absolutely breathtaking, but looking downwards makes you a bit anxious. Voices in the background keep telling you to relax, to breathe deeply, to take in the amazing scenery … and then they begin the countdown : 'Five, four, three, two, one. Jump!' You still have the chance to give up, but, if you've come this far, lose the logic and subdue your fear for a second. It's all it takes and .. down you go. Bungee jumping is one of those extreme sports that give you the ultimate rush. The highest bungee jump in Croatia is the Maslenica Bridge near Zadar. The jump altitude is 56m and the rope stops round 5 m above the sea surface. You don't have to be an experienced jumper to try out Maslenica Bridge, in fact even beginners can do it.
Or stay closer to the ground …
Spending your holiday on the beach is perfectly fine, but at some point it might be interesting to move to the shade of the pine trees to be a bit more active for a change. The adventure park in Kožino, north of Zadar, will give you just that. Five-minute ride is all it takes to get there and turn into Tarzan. Joke aside, 100 rope courses with altogether 6 km of cable and diverse degrees of difficulties suitable for both children and adults will make you test your skills and fitness as well as overcome your fears. Another exciting adventure park is situated in the heart of Lika and in the middle of the mountain Velebit Nature Park in the village of Rizvanuša where you can venture on rock climbing, paintball, archery, quad rides etc. in addition to the rope courses.
Surf 'n' kite
Flying and surfing - that's what it looks like when you watch a more experienced kite surfers perform all sorts of maneuvers. Supposing you're a beginner, no one would expect you to master such tricks in a day or two. But why not try at least surfing? You're bound to have fun with it, even if you keep losing your balance and falling. Zadar and its wider area are continually attracting (kite) surfers, because its winds allow it. Basically, you don't even have to leave town to do it. You can have a go at it on the Kolovare beach or, if you don't feel like it, simply sit back on your beach chair and just feel the rush by observing those that (kite) surf.
What a rush …
… it is to travel on holiday, to meet new people, culture and places. For some, that's quite enough and they'll be happy to keep their feet on the ground, literally. For those looking for an additional rush, Zadar truly has a lot in store - from extreme to walks in the park. And it's entirely up to you to decide how far you wish to push yourself, because you'll get plenty of summer adrenaline anyway just for being there.