Wish for love in Zadar - Boutique Hostel Forum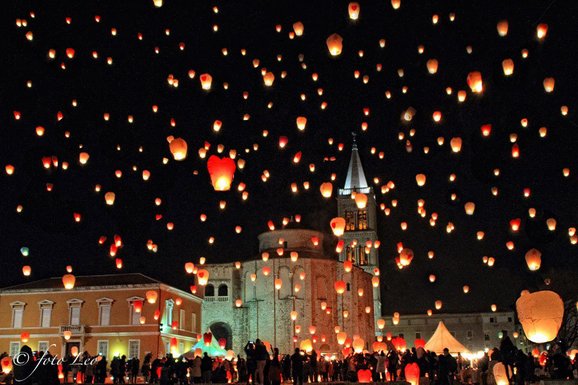 Many cities worldwide are regarded as romantic and highly inviting for couples in love. Paris may have Pont des Arts where lovers seal their love with a padlock on the railings of the bridge, Venice may offer gondola rides along its canals and Verona may be the seat of star-crossed lovers, Romeo and Juliet, but Zadar on Valentine's Day is something extraordinary - it's a place where love, in all its forms, is in the air. Regardless if you're in a relationship or single, if you want to openly demonstrate love for your partner, or show appreciation to a friend or kindness to a person in need, a true celebration of love is what happens on February 14 with the event Zaželi ljubav ('wish for love').
What is … love?
On February 14, 'love' in Zadar represents 'light, compassion, warmth, kindness, affection'. It doesn't refer exclusively to romantic feelings among people in love, but rather tenderness of heart towards human beings. Zaželi ljubav is a charity event which entails buying a sky lantern (lampion), making a wish and releasing it to fly up in the sky. Even though similar events take place throughout the world, Zadar is special because it's not only about creating magnificent images on the night sky. It's about opening hearts, selfless giving and celebrating love. And it conveniently takes place on Valentine's Day.
When and where
Zaželi ljubav was held for the first time in 2011. It's been so warmly welcomed by the people of Zadar that it's slowly becoming a tradition, a unique event celebrated every Valentine's Day. Each year money raised from selling sky lanterns goes to a different charitable organization. In 2014, Croatian Catholic Association of Nurses will receive the funds which will be directed towards the physically impaired. The event takes places at the Zadar Forum and it commences at 6 p.m. when they'll start selling sky lanterns. An hour later the programme begins, leading up to the moment when the sky lanterns are released (8 p.m.). The programme then continues with a D.J. and a concert.
Conclusion
'All you need is love' is a line from the famous Beatles song that celebrates love and its clear message is universally understood and doesn't need additional explaining. And a celebration of love is precisely what happens in Zadar on February 14. So, be a part of this wonderful event, come to the Forum, buy a sky lantern, launch it and let your heart be filled with love and joy! Or simply enjoy the view of the bright night sky from our hostel Forum. And don't forget the most common Valentine's Day's line: 'Roses are red, violets are blue', to which we might add 'look at the sky, love is there - all for you!'


​Image sources: www.ezadar.hr